Sevilla striker Alvaro Negredo is reportedly close to joining Tottenham for £15m after the Spanish club's president, Jose Maria del Nido, flew to London on Thursday night. The 27-year-old is a proven goal scorer and has already netted 11 times for his side in 18 appearances this season.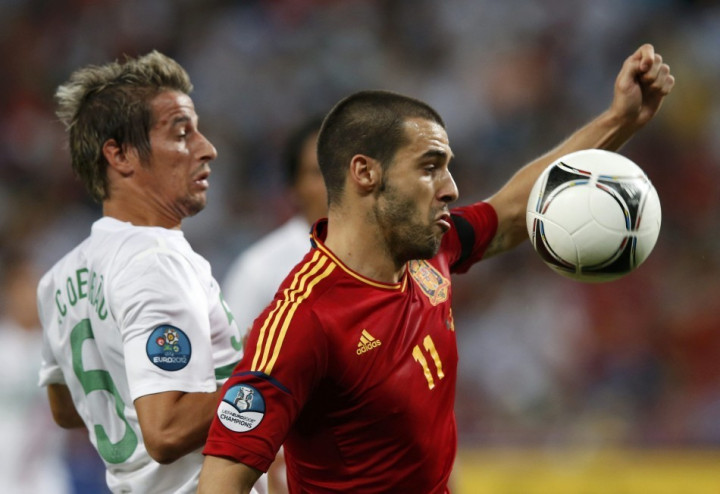 The Daily Mail reports Sevilla have denied knowledge of a transfer for Negredo and that Del Nido's trip had anything to do with Tottenham's bid. However, inside sources confirm the Andalusians are resigned to losing the former Real Madrid youngster. In addition, the striker has been quoted as showing interest in English football.
"The Premier League is a great competition, I really like it and I think my style of football would be well-suited to it," the Spanish international said, adding, "There comes a time when a cycle comes to an end and I don't know whether my time will be sooner or later. I haven't thought about it a lot but I wouldn't mind playing abroad."
Spurs will miss Togo international Emmanuel Adebayor. The former Arsenal and Manchester City forward has been called up to his national side for the African Cup of Nations, starting 19 January. His absence leaves Tottenham coach Andre Villas-Boas with only Englishman Jermain Defoe as a senior striker.
Should the reports be true, Negredo will sign a four-and-a-half year deal with then London club, which could see him earn £70,000 per week. Spurs' arch-rivals, Arsenal, were also reported to be interested in the striker's services.
The Spanish club are facing serious financial concerns, with the Mirror reporting a decision to sell key players like Negredo (and also winger Jesus Navas and midfielders Federico Fazio and Ivan Rakitic, among others) was taken in December.
It appears the shareholder's meeting in December marked the first time in a decade the club announced a loss... of up to £40m. The president confirmed in that meeting there was a need to sell players and quoted £13m as the sum immediately required.