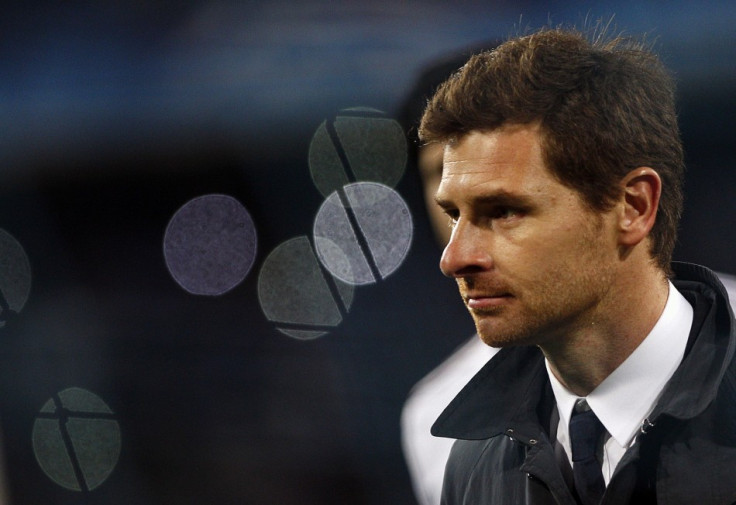 Tottenham could be set to hand new manager Andre Villas-Boas a sizeable transfer fund ahead of the 2012/13 Premier League season, as Spurs look to build on last season's fourth place finish and secure Champions League football for the season after.
The former Chelsea boss had, to be polite, a disappointing time at Stamford Bridge, culminating in his dismissal mere months after being appointed with much fanfare. Since his sacking towards the end of last season, the Portuguese has been linked with a number of clubs, including Italian outfit Inter Milan, Liverpool and a return to former happy hunting ground FC Porto. However, he has now been confirmed as the manager at White Hart Lane and the successor to Harry Redknapp, despite much speculation about player revolts.
Nevertheless, Villas-Boas will already have begun analysing the squad and figuring out where additions and tweaks may be needed. The one good piece of news he will have had is that Welsh winger Gareth Bale, reportedly a Barcelona target, has signed on till 2016. The future of Croatian midfielder Luka Modric is less certain, with Spanish champions Real Madrid believed to be very interested in his services.
Meanwhile, news AVB will be handed a £40mn war chest, reported in The Sun, opens up an exciting array of opportunities and possible signings. However, all of that will have to be balanced against the fact Spurs cannot offer any of their signings, for this year at least, Champions League football.
Among the players the club has already identified are Ajax's Belgian defender Jan Vertonghen and AVB's compatriot Joao Moutinho, from FC Porto. He may have to move fast though; an earlier IBTimes UK report suggested rivals Manchester United may also be interested in Moutinho.
Meanwhile, Icelandic international Gylfi Sigurdsson, who was also being courted by Liverpool and Swansea City, has signed on.
Who Else Could Come?
The big question now is who else can AVB target? His biggest problem is that he cannot offer, as we explained earlier, Champions League football. That then begs the question - how important is that to a player? After all, Bale signed on knowing full well the club would not play with Europe's elite. Were that an important short-term consideration, there would be no shortage of clubs eager to offer the Welshman a spot in their teams.
The Goal Keeper
AVB has three senior goal keepers, at the moment, to choose from. Gomes, Brad Friedel and Carlo Cudicni are all good shot stoppers and reasonably reliable performers. Gomes is perhaps the weakest in that line-up given his error-prone style, while Cudicini has not been a first choice keeper for quite some time now; his run in last season's Europa League notwithstanding. Friedel probably remains Spurs' best first choice option but he is 41 years old and a replacement will be needed later, if not sooner.
Spurs have admitted an interest, along with Liverpool and Arsenal, in Olympique Lyon's Hugo Lloris. The 25 year old club and country captain has been valued by his club at £16mn and that price should be well within AVB's budget. If Lloris does indeed arrive at White Hart Lane, expect one of either Gomes or Cudicini (and maybe even both) to leave.
The Defense
Villas-Boas' now infamous insistence on the high defensive line at Chelsea may actually fare better at White Hart Lane, given that his back four now, in general, has more pace than at Stamford Bridge. If Vertonghen does complete his transfer, then in company with Younes Kaboul, Kyle Walker - the PFA Young Player of the Year last season - and Benoit Assou-Ekotto, he will have a strong, aggressive and fast defence. AVB also has Michael Dawson and Ledley King as options for the centre back positions. However, the latter's well publicised chronic injury problems and the fact he is now 31 years old may persuade his new manager a replacement is needed. Dawson, meanwhile, continues to recover from injury problems of his own. Squad players like Steven Caulker, who has signed a long-term deal, could be given an opportunity to show their worth, particularly since AVB will be keen to shake up the old order and establish himself in the dressing rooms.
The Midfield
As of now, the likes of Modric, Bale, van der Vaart and Scott Parker are unquestioned first choice players. However, if Rafael van der Vaart and Modric leave, it definitely unsettles the balance of the side. Sandro and Jake Livermore are good central midfielders but not really capable of orchestrating attacks like the Croatian and Dutchman can, while Tom Huddlestone is reportedly a Fulham target. AVB will probably look to use Bale and Aaron Lennon as wide attackers and would ideally like to see them act as second, third or fourth strikers, cutting inside to shoot at goal. The role should suit Bale well... that is pretty much what he does now anyway. Lennon may not be quite so proficient in that guise; he has done so on occasion but does seem to be more comfortable in the traditional winger role.
The club has also, the Daily Mail reports, registered a £11mn bid for Brazilian youngster Oscar. The 20 year old midfielder is valued by his club, Internacional, at closer to £20mn but a deal, it is believed is not far off. Oscar has fast earned a reputation as a creative midfielder who can also chip in with a few goals, giving him a potential edge in the showdown against Modric, for whom he is thought to be a replacement. However, the fact is he has yet to prove himself in Europe or even through a complete league season. Spurs do have Dutch midfielder van der Vaart in the playmaker's role but recent speculation suggesting he is pushing for a move back to Germany and old club Hamburg could leave AVB with a lack of creativity in midfield and a need for Oscar.
In addition, White Hart Lane flop Gio Dos Santos is expected to return to Spain, with a move to Atletico Madrid on the cards and Steven Pienaar could make his Everton loan a permanent move. The arrivals of Moutinho and Oscar, if pulled off, would be wonderful additions to the squad. Also a possibility is another Brazilian midfielder - Ganso. Reports from earlier in the year suggested a move could be made for the £15mn rated Santos midfielder. However, given there has also been interest from Manchester United, both Milan clubs and Real Madrid, this could be a tough nut to crack.
The Forward Line
Incidentally, Ganso's agent is Teodoro Fonseca, who also represents Porto's Brazilian striker Hulk. The forward has been heavily linked with a move to Stamford Bridge but it could be Spurs try to derail that move. The club will certainly need reinforcements in the striking department, after Emmanuel Adebayor returned to Manchester City and Louis Saha was released. As of now Jermain Defoe is the only recognised striker in the squad and a move for Hulk (the price would have to be approximately £30mn or more) may be just the tonic both manager and club need to get their season up and running. It is still possible Adebayor will return to White Hart Lane and that could well be an ideal situation. However, even if the Togolese international does return (and he will be a valuable asset) a third striker may still be needed. A good option could be Chelsea's Daniel Sturridge, for whom a £10mn move, the Daily Mail reported, is being talked about. Sturridge was in excellent form for the Blues last season, finishing joint highest scorer in the league with 11 goals. However, he has stated a preference for a central striking role rather than a position on the flanks and has been quoted as saying he wants more playing time. A move to White Hart Lane could offer him both, particularly if neither Adebayor nor Hulk arrives.
Final Analysis
Harry Redknapp took a parting shot at his old club and their new manager, when he said he thought the club that he had built was capable of giving AVB the league title. That is a far-fetched claim, given the strength on show at Manchester City, the craft behind Manchester United's rebuilding, the confidence Chelsea will bring into the new season and outside contenders like Arsenal, Newcastle and maybe even Liverpool. The point is there are a number of clubs out there that could upset the applecart, in however small a way. However, Redknapp does have a smidgen of a point. Spurs did play some of the most exciting football last season, particularly in the first half. If they can find a degree of consistency and supplement that with a strong bench, then a serious assault on Champions League positions for next season should be a bare minimum expectation.