Tottenham are considering making a bid for Hamburg star Heung-Min Son, according to local reports, with the 20 year old looking a bright future prospect for Andre Villas-Boas.
The club where Rafael van der Vaart made his move last summer are believed to be open to selling their young striker, who has so far scored six times in 17 appearances in the Bundesliga and is entering the final 18 months of his contract.
Heung-Min has been touted for big things throughout Germany, after becoming the youngest player to score for Hamburg in 18 years, and scoring 18 goals in nine games in his first senior season with the club.
The Enfield Independent claims that Tottenham see the star as somewhat of an unnoticed talent by the Premier League, and believe he would add more depth to the squad as they look to hold onto their top four spot.
Spurs have recently made a habit of becoming inconsistent when the season hits the business end; whilst in their last campaign the north London club were challenging for the title over the Christmas period, by March 21st they were in fourth place and below bitter rivals Arsenal.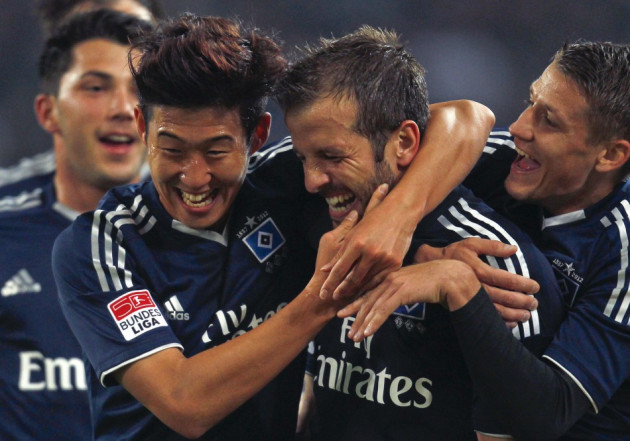 This time around, with a new manager and new look squad, Daniel Levy and Villas-Boas are keen not to let the same fate take place again, with a clear aim within the club to finish above the Gunners for the first time since 1995.
While Jermaine Defoe seems to have re-found his form under a new manager, with the striker scoring 14 goals this season, Gareth Bale is the next man to come close to the England international with 11 goals, and Villas-Boas is believed to be looking for more options in an out-and-out striker who can add to that tally significantly.
Hamburg are currently mid-table in the Bundesliga, and the London paper claims that van der Vaart has spoken to Heung-Min making a move to a big English club like Tottenham.
It's claimed he said: "Spurs always try to recruit the best talent from around the world. It's why they are almost top every year."
Van der Vaart made the move back to Hamburg for personal reasons after spending two years at White Hart Lane. With the two clubs having a history of transfer negotiations, they will no doubt be taking a look at the prospect of moving Heung-Min into the Premier League, with the fee believed to be between £8 million and £10 million.
See the young star in action: