Tottenham are closing in on Roma forward Erik Lamela, with the Argentine international set to join the north London club for a deal worth £25m, according to the Daily Mail. Spurs missed out on £30m Brazilian forward Willian, when they were gazumped by a late swoop by Chelsea, where owner Roman Abramovich personally intervened to sign the Anzhi Makhachkala player.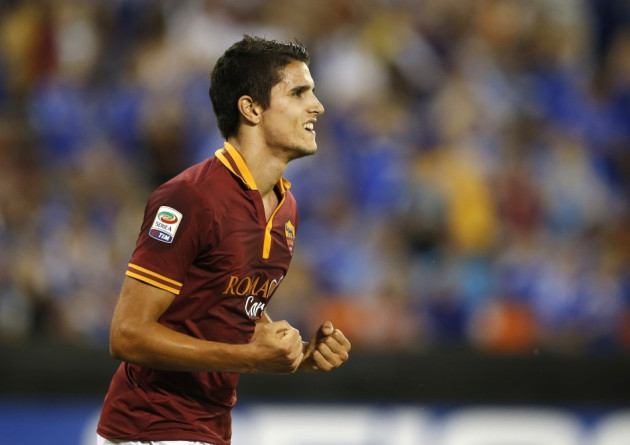 The 21-year-old is set to join manager Andres-Villas Boas once the Italian club sign a replacement. The move is expected to spell the end for Jermain Defoe at the club. Defoe has been deemed surplus to requirements. This will be AVB's fifth signing, having brought in Roberto Soldado, Paulinho, Nacer Chadli and Vlad Chiriches so far this summer. Spurs will play their second game in the Premier League on Sunday against Swansea City, having won their last game 1-0 in a London derby against Crystal Palace.
Lamela will be a great addition to the Spurs squad, which is on the verge of losing Gareth Bale to Real Madrid, with the deal set to be announced later in the week. The forward scored 15 goals and assisted five for the Italians last season and will help bridge the void left by Bale's departure. AVB will be hoping to complete the signing quickly and get the player integrated into the squad before their crucial trip to the Emirates on 1 September.
Meanwhile, Swansea manager Michael Laudrup claims that Gareth Bale is up there with the best in the world but he is not special like Cristiano Ronaldo and Lionel Messi.
"You have to admit Gareth Bale was a superstar for Tottenham last season. Even when you have a good team it is always so nice that there is one player, like Bale, who you can give the ball to and he will do something great. When you see Real Madrid play they are very good players but at certain points they have Ronaldo, and Barcelona have Messi. Super teams but also they have that one player who makes a difference, " Laudrup said.
"For me, over the last four or five years those two have been at a level by themselves. Then you have 10 or 12 players just below that and Bale is definitely there with [Andres] Iniesta, [Sergio] Aguero and Robin van Persie. They are all great players, but you have to say Messi and Ronaldo are something special," he added.