Tottenham and Liverpool have reportedly revived interest in Aston Villa striker Christian Benteke. Goal.com reports that both clubs have made enquiries about his availability and are considering a bid for the forward, including offering a massive increase on the £20,000-per-week salary he is currently earning.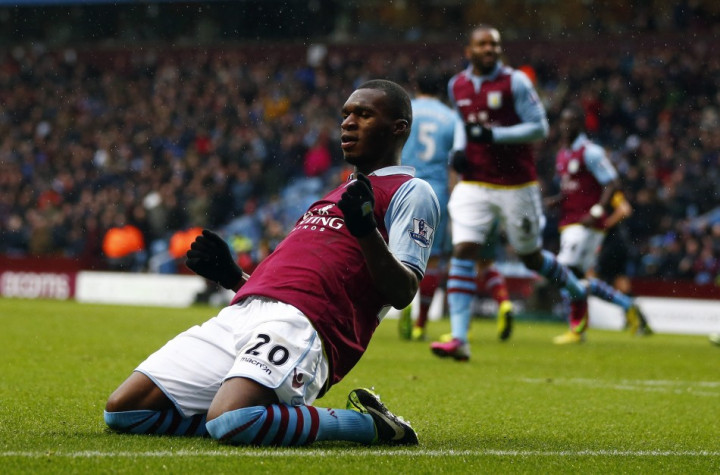 Liverpool are looking at the forward as a direct replacement for Luis Suarez, whose Anfield future is uncertain. The forward has publically courted interest from Real Madrid and expressed a desire to join the Spanish giants.
Although he has insisted that no deal will be made, Liverpool manager Brendan Rodgers is looking to the transfer market to ensure he is not too badly affected by the Uruguayan's potential departure. The Reds have already completed the signing of two attacking players - Iago Aspas from Celta Vigo and Luis Alberto from Sevilla.
Tottenham are also in the market for a striker and will swoop for the forward if they fail to land primary target David Villa of Barcelona. Spurs' new director of football, Franco Baldini, is to open talks with the Catalans this week. There have also been reports of a move for Brazilian international Leandro Damiao but the Internacional player claims he has yet to receive an offer from the White Hart Lane side. Andre Villas-Boas has also been linked with a move for Valencia striker Roberto Soldado.
Meanwhile, as the speculated chase goes on, Benteke has yet to sign a contract extension at Villa Park. Manager Paul Lambert is aware of the interest in his player and although the Belgian remains contracted till 2016 but interest from top English clubs appears to have persuaded Benteke to push for a transfer
Former Villan Ian Taylor spoke to the Birmingham Mail on this situation and supported Lambert's position.
"That's why I'm not a manager, because it would be a tough job to turn round to Christian Benteke and say 'You should be staying at Aston Villa'. You can offer them all the money God sends, and they'd still want to be playing in the Champions League - and how do you stop that?" he explained.
"For me if he went now for 25 million, 30 million or 40 million, it just shows me what's wrong with football these days, that you can have one good season in the Premier League and then go for that amount. My take on it is that he should stay at Villa for another year. I think a lot of clubs will be looking at him and saying 'Okay he's had a great first season - let's see if he can do it again," he added.