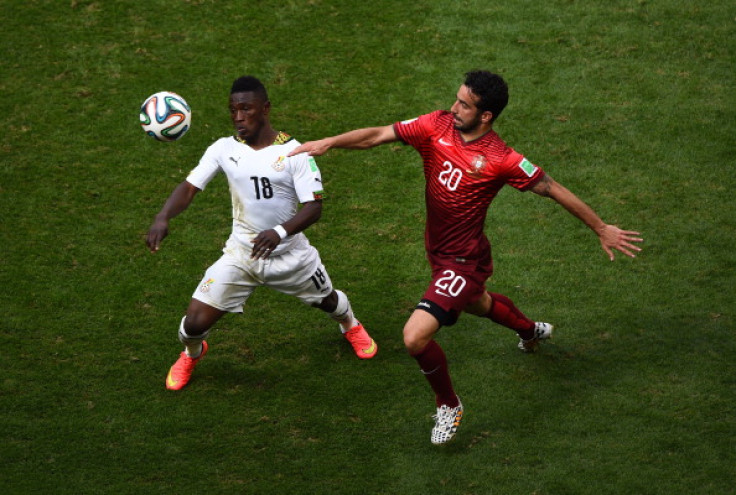 Trabzonspor president Ibrahim Haciosmanoglu has confirmed that Manchester United are monitoring Abdul Majeed Waris.
The 23-year-old joined the Super Lig outfit from Spartak Moscow on a €6m (£7.6m, $11.5) deal as the forward signed a four-year contract with the Turkish club last September. He has been attracting interest from clubs across the continent and has already made it to the Ghana squad for the ongoing African Cup of Nations.
The Daily Mail reported that United assistant manager Ryan Giggs personally scouted Waris earlier in the season during Trabzonspor's Europa League fixture.
Louis van Gaal's side will face competition in signing the African forward after Haciosmanoglu admitted that Lille and few other English clubs are interested in signing the player.
"Lille and a few English clubs are interested in signing Waris. We know Manchester United are monitoring him too," Haciosmanoglu said, as quoted by the Express.
"Lille were also interested in Waris before we signed him. However a player cannot play for three different clubs in one season so he will have to wait until the end of the season. We know Manchester United are monitoring him too."
It is not the first time that Trabzonspor have revealed United's desire to acquiring the services of Waris. Earlier in October, Trabzonspor chief executive Burak Gurdal admitted that Red Devils are scouting the Ghanaian, but confirmed the club have not received any offers for the forward.
"We have not have any direct offers however, we know Manchester United are scouting Waris and keeping close tabs on him. Not just Waris, we have a few players are being closely watched," Gurdal explained.
"We only signed Waris two months ago and are not interested in selling right now, but you never know what will happen in the future."
Waris is believed to be available for £5m and could leave his current employers and make a switch to England at the end of the season.