Train services across England grind to a halt as drivers go on strike
Many Aslef union drivers, who work at over a dozen train companies, have walked out and will refuse to work overtime this coming Saturday.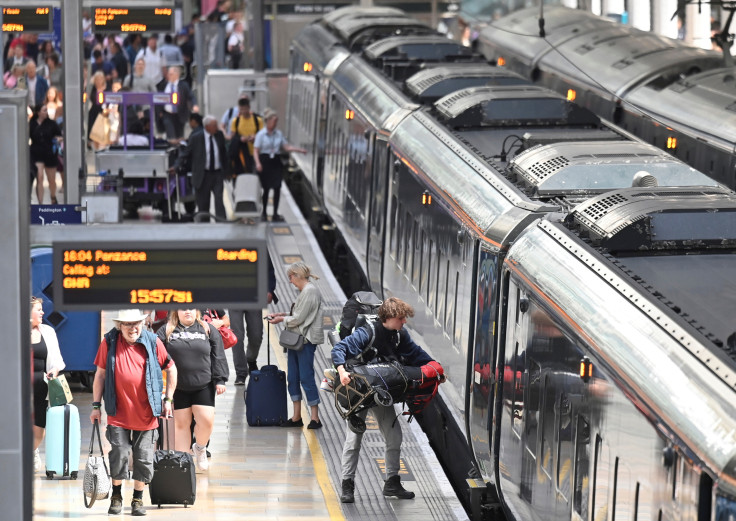 There's panic on the streets of London this weekend as hordes of drivers begin another strike as part of their gruelling and long-running pay dispute.
Members of the Aslef train union are expected to walk out for 24 hours, thus severely impacting timetables and forcing trains to start later and finish earlier than usual. Some areas are even expected to have no trains all day.
Drivers will also be banned from working overtime on Saturdays, which coincides with a strike by the Rail, Maritime and Transport Union (RMT) in its own dispute over pay, jobs and work conditions.
More than 20,000 RMT union members at 14 operators across the country are expected to walk out this coming Saturday.
Thirteen operators, including Avanti West Coast, CrossCountry, Thameslink and TransPennine Express, will be shut down all day, with the majority of the disruption occurring in England.
Despite this dispute not affecting Transport for Wales and ScotRail, potential walkouts by drivers at long-distance operators could mean that there will also be various train cancellations in Scotland and Wales.
The dispute in question started over a year ago and, much to the frustration of staff and regular commuters, remains deadlocked and shows no signs of a breakthrough or compromise.
Both Aslef and RMT blame the UK Government for blocking any chance of a deal by outright refusing to allow train operators to make an offer they can recommend to their members.
Back in the spring of last year, Aslef rejected a pay offer which would have seen drivers get a backdated pay rise of four per cent for 2022, and another four per cent increase this year, in exchange for sweeping changes to ways of working.
Mick Whelan, Aslef general secretary, commented: "The government appears happy to let passengers, and businesses, suffer in the mistaken belief that they can bully us into submission".
"They don't care about passengers, or Britain's railway, but they will not break us," he continued saying.
Mr Whelan also claimed that his union had no contact with rail operators since late April, and from the Government since as early as January.
He added: "This shows how the contempt in which the companies, and the government, hold passengers and staff and public transport in Britain."
Aslef intends for Friday's strike to force companies into cancelling services across the country, whilst the ban on overtime will "seriously disrupt" the network. The union has also maintained that none of the companies employ enough drivers to provide a proper service without working overtime.
On the other hand, a spokesperson for the Rail Delivery Group said: "Further strike action by the Aslef leadership is unnecessary and will cause more disruption to passengers looking to enjoy the end of the summer holidays."
He continued: "We want to give our staff a pay increase, but it has always been linked to implementing necessary, sensible reforms that would enhance services for our customers."
"We urge the Aslef leadership to acknowledge the substantial financial challenges facing the rail industry and work with us to achieve a more dependable and robust railway system for the future," the spokesperson added.
Passengers have been highly advised by rail operators to check before they travel and to only travel if absolutely necessary, as the service levels will heavily vary all across England.
© Copyright IBTimes 2023. All rights reserved.