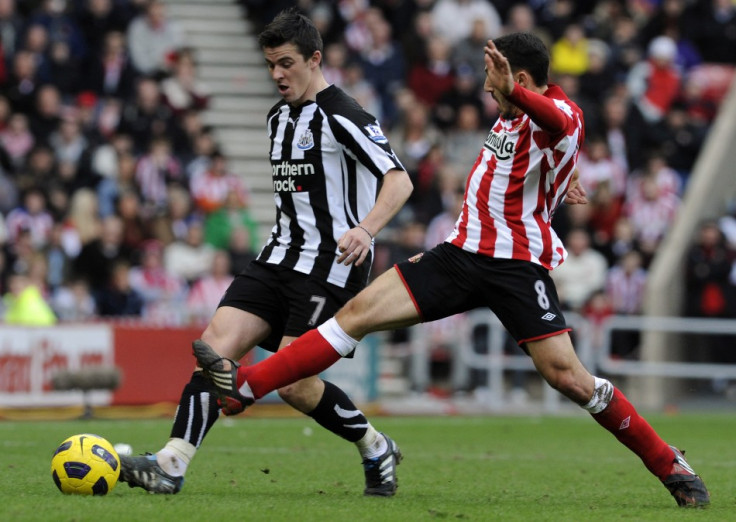 All the latest transfer rumours from Manchester United as the club is linked with moves for Joey Barton and Bayern Munich midfielder Bastian Schweinsteiger. Manchester United will offer Javier Hernandez a new deal to fend off interest from Real Madrid but talks between the club and Wesley Sneijder have been denied by Inter Milan. There are also reports that Nemanja Vidic could be on his way to Juventus this summer.
The Daily Mail claims that Manchester United is set to make a sensational approach for Newcastle midfielder Joey Barton. Joey Barton has been told he can leave Newcastle on a free transfer after he criticised the club on his personal Twitter page. The clubs hierarchy has lost patience with the controversial player and will allow the player to talk with other clubs.
The newspaper claims that Manchester United coaching staff is in talks with Barton's representatives about the player becoming a squad member at Old Trafford. Barton is said to been keen to return to the England fold and would jump at the chance of playing Champions League football. Manchester United are also said to be ready to offer Barton £65,000 a week in wages.
Javier Hernandez is to be offered a new bumper contract from Manchester United after s stunning first season at the club. The Mexican forward was a revelation last season and the club will offer the player a new deal to fend off interest from Real Madrid. Manchester United has also confirmed that Hernandez will miss the Community Shield on Wednesday. The Mexican international suffered concussion on the clubs preseason tour of the U.S.A. and will be out for around three weeks.
"Chicharito won't be involved for maybe another two or three weeks - considering he had a concussion some years ago we are just playing safe with that but he should be back by the end of August," Ferguson said.
Manchester United are said to be eyeing up a move for Bayern Munich star Bastian Schweinsteiger. The German international has been on the radar of Sir Alex Ferguson for a number of years and the Scot is ready to offer the player a bumper deal to replace Paul Scholes.
The midfielder is said to want to play for Manchester United at the prime of his career and is said to be ready to make an offer for the player if a deal for Wesley Sneijder can't be done.
Eurosport have poured cold water on reports in the English media that Inter Milan has accepted an offer from Manchester United for Wesley Sneijder. The sports news agency claims that Inter Milan have reiterated there are no negotiations involving Manchester United, Inter Milan and Wesley Sneijder.
Manchester United boss Sir Alex Ferguson has already denied that he and the club have offered Sneijder an ultimatum, describing the rumours as 'absolute nonsense.'
"I've already said it and I repeat it - there aren't any negotiations. If an offer arrives that is non-refusable, and this is the same for Sneijder and every other player, only in that moment would we think about what to do," said Inter Milan's Ernesto Paolillo.
The Daily Start leads with sensational reports that Manchester United could allow their inspirations captain to join Juventus this summer. Reports in the newspaper claim that Sir Alex Ferguson could be considering a bid from Juventus for Vidic after securing the signature of Phil Jones last month.
It is widely reported that the Italian giants made a move for Vidic last month but Vidic made it clear to Manchester United executives that he wanted to stay at Old Trafford. However, Juventus now believe they can bring the Serbian to Italy this summer.