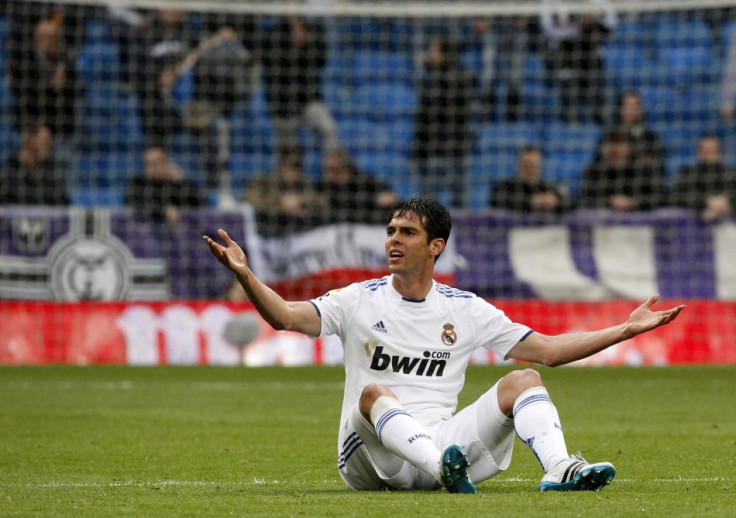 Here are the latest transfer rumours involving Real Madrid. Jose Mourinho is said to be ready to let Kaka leave after a number of disappointing displays during the clubs U.S tour. AC Milan are said to be ready to take Kaka back to Milan if the Brazilian wants to leave the Spanish capital. There are further developments on Neymar's on and off again transfer to Real Madrid and Jose Mourinho is ready to line up a bid for Giuseppe Rossi after his move to Juventus fell through.
President of Santos, Luis Alvaro de Oliveira, has said that he will do everything he can to keep Neymar at Santos this summer. It is another twist in the long running transfer saga after Neymar's agent said on Friday that the striker would leave the club this summer if Real Madrid paid the minimum release clause.
Reports from ESPN today claim that President Oliveira will not allow Neymar to leave until Santos have competed in the Club World Championships in December. Spanish daily AS quote Luis Alvaro de Oliveira as saying: 'He will stay at Santos. It is not safe, but that is my intention, my objective. The player's wish is yet to be defined. It is clear he will not leave if the release clause is not met, and my conviction is that Neymar wants to stay in Brazil some time more.'
The on and off again transfer saga looks set to continue into August.
Real Madrid boss Jose Mourinho is said to have lost patience with Kaka and will look to move the former World Player of the Year on this summer. After Real Madrid's successful tour of the United States, Mourinho is said to be unimpressed with Kaka's performances and feels the player has little to offer Madrid in the future.
AS report that the Brazilian playmaker that was signed for around £65m two years ago, is ready to fight for his place in the team but accepts his first team chances will be limited. Kaka said: 'This is a very important pre-season for me. It has started differently (after a knee injury last summer) and I am feeling better every day. We have won out three games here and the way we play is improving.'
Kaka continued: 'Bit by bit I am getting my own confidence back and I am working hard to make sure that happens. It is something I have been missing and I need to have a lot of confidence and I am a lot better.'
AC Milan are said to be very keen on taking the Brazilian back to Milan and AC Milan owner Silvio Berlusconi is said to be waiting for the green light from Real to open talks.
Real Madrid are rumoured to be ready to make an approach for Villarreal striker Giuseppe Rossi. The former Manchester United forward was thought to be heading to Juventus but the transfer has fallen apart because the Italian club are uncomfortable paying £30m for the striker. Jose Mourinho has said he wants to bring in a prolific goal scorer this summer and will look to Rossi who has netted 51 La Liga goals in four years at Villarreal.