Traxys, the European metals dealer accused by Anonymous of continuing to trade with DR Congo despite publicly announcing that it would stop purchasing minerals from war zones, has rejected all allegations with a statement to the IBTimes UK.
According to emails leaked by the hacking collective, Traxys received an enquiry from a dealer known as Thierry Salvakalumba on 18 May offering 30,000 metric tonnes of lead ore to the company.
"Right now, we have started moving the lead ore from DRC to our warehouse in Chingola, Zambia. Plz let us know if you are interested. Regards Thierry," the email said. Anonymous said the seller illegally moved the trading from DR Congo to Zambia to hide its provenance.
Traxys told IBTimes UK that the hacked emails "consisted of an unsolicited, anonymous inquiry from a 'person' unknown to Traxys".
"Traxys has no idea who this 'Salvakalumba is," it went on to say.
"Responding to the warfare and criminal activities in the Eastern DRC, in early 2009 Traxys terminated all of its activities in that part of the Congo, and since then has conducted no business activities in that territory," reads the statement.
In December 2008, UN investigators implicated Traxys in the alleged purchase of materials from militia groups in DR Congo.
In response, the company announced that it had immediately stopped sourcing minerals from DR Congo's eastern provinces, where the UN experts had reported that the company was purchasing casserite (tin ore) and coltan (tantalum ore) from traders in DR Congo.
These buying houses, or comptoirs, had purchased the minerals from sources directly linked to rebels from the Democratic Liberation Forces of Rwanda (FDLR). The rebel group is run by Hutu extremists in DR Congo, who engaged in bloody reprisal killings that caused more than 100,000 civilians to flee their homes in 2008.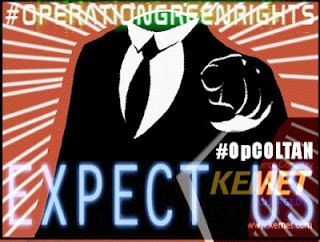 Act of a fraudster?
In response to Anonymous' claims, Traxys said that "it has never traded in any lead products originating in the DR Congo, and has no interest in doing so now".
"The anonymous inquiry made to Traxys's website is obviously the act of some fraudster unknown to Traxys," reads the statement.
Anonymous leaked another e-mail to Traxys from a Danish dealer, which it said showed that the company is still trading coltan from DR Congo.
The e-mail read: "Dear Traxys, We have access to some Tantal & Niobium ( Coltan ) 5 tons pr. month and are looking for a partner to process and refine this. Please contact us. Best regards Steen B."
But Traxys dismissed this second email.
"Insofar as the other hacked email is concernede, it too was an unsolicited inquiry on Traxys' website from a Danish company not previously known to Traxys concerning Traxys's interest in Sierra Leone-produced coltab. No transaction was ever pursued."
"Traxys [...] is a member of iTSCi [the traceability and due diligence system for tin, tantalum and tungsten from the Great Lakes region of Central Africa] and a staunch adherent to iTSCi's tagging system used to identify the source of 'conflict minerals' originating in the 'conflict area'," reads Traxys's statement.
"Traxys has scrupulously adhered to its policy of refusing to purchase materials which might indirectly finance or benefit armed groups in the DRC."
The iTSCi system was been set up to allow companies to maintain trade with "responsible supply chain actors in the DR Congo and adjoining countries".
Traxys is a company based in Belgium that is owned by three American investment banks, two in New York (Pegasus Capital Advisors, Kelso & Company) and one in Denver, Colorado (Resource Capital Funds), according to the company's website.