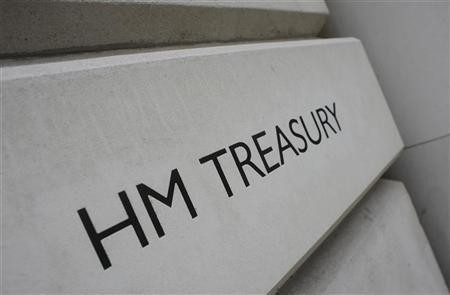 Britain's Treasury should return to having one annual Budget in the spring rather than using the Autumn Statement as a second opportunity to shake-up public finances, a group of MPs has said.
The House of Commons Treasury Select Committee made the suggestion in its report into Chancellor George Osborne's latest Autumn Statement, which it said had now become a second full Budget.
"The implications are that business and the economy needs to react to two periods, not one, of potential uncertainty and change," said the Treasury Committee's report.
"A return to a position of one Budget in the spring, and an updating statement in the autumn, would be desirable."
MPs also said that they fear the Treasury-backed Funding for Lending Scheme (FLS), operated by the Bank of England, is too focused on freeing up affordable bank credit for mortgages, rather than financing small-to-medium-sized enterprises (SMEs).
They called on the Bank of England and Treasury to assess whether this was the case and report their findings, and solutions, back to the committee.
Under FLS, banks are offered cheap loans to a value linked to their total lending to SMEs and individuals. By offering discounted loans to banks, the Bank of England hopes it will stimulate an increase in affordable lending into the economy.
A squeeze on credit is perceived to be one of the barriers to the elusive recovery for the beleaguered British economy.
Figures for the first three months of FLS, which was launched in June, showed that £500m of new credit had been made available.
In the Bank of England's Credit Conditions Survey, lenders reported that they would be significantly boosting the availability of credit in the first quarter of 2013.
OBR forecasts
Committee members also raised concerns over the forecasting of the Treasury's independent fiscal watchdog, which was set up in 2010 by the coalition government to monitor public finances in the wake of the vast budget deficit left behind by the previous Labour Party administration.
The Office for Budget Responsibility (OBR) publishes growth forecasts for the UK economy, which are then used by the chancellor and Treasury officials to shape fiscal strategy.
However, the OBR's estimates have been much more optimistic than others' predictions for the UK economy, and have often been proved wrong by official data.
"This would not be a cause for concern but for the fact that the OBR's forecasts have implications for decisions on public policy," said the Treasury Committee report.
"This is because the fiscal mandate is defined with direct reference to a forecast, and because the OBR's is at present the only official forecast against which the fiscal mandate can be measured."
MPs recommended that the OBR should "do more to ensure that there is greater public understanding of the limitations and purpose of forecasting, and more realistic expectations of what forecasting can deliver."
---
Follow @shanecroucher