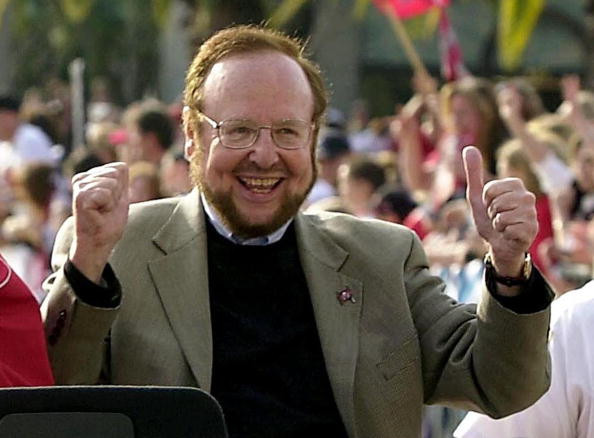 Tributes have been paid to Malcolm Glazer who has died aged 86.
The billionaire owner of Manchester United football club had been in poor health since April 2006 after suffering a series of strokes which left him with impaired speech and limited mobility in his right arm and leg.
The news of his death was announced by the Tampa Bay Buccaneers, the American football club he owned for nearly 30 years.
Tributes for the Palm Beach resident have been pouring in from the US.
Roger Goodell, commissioner of the National Football League, paid tribute to Glazer saying: "Malcolm Glazer was the guiding force behind the building of a Super-Bowl champion organization. His dedication to the community was evident in all he did, including his leadership in bringing Super Bowls to Tampa Bay. Malcolm's commitment to the Bucs, the NFL and the people of the Tampa Bay region are the hallmarks of his legacy. Our thought and prayers are with his wife, Linda, their six children and then entire Glazer family.
Reacting to the news of Glazer's passing, American footballer and former Tampa Bay Buccaneers player Mike Alstott said: "I'm stunned. I'm really saddened. Malcolm was a great person, a great owner."
Gerald McCoy, who also plays for the Buccaneers, added on Twitter: "Rest in peace to the driving force that helped transform the organization that changed my life forever. Forever grateful!!! RIP Mr. Glazer."
New Orleans Saints owner Tom Benson said: "It was with great sadness that I have learned about the passing of Malcolm Glazer. I had the good fortune of working with him for a prolonged period of time on the NFL's Finance Committee and through our times spent at meetings and when the Saints and Buccaneers played twice a year. He was a friend and always a gentleman. He was passionate about the Tampa Bay Buccaneers."
Washington Redskins owner Dan Snyder commented: "I am saddened to hear the news of Malcolm Glazer's passing. I knew him very well and respected him as a businessman and as a Super Bowl-winning owner. Our thoughts and prayers go out to his family."
RIP Malcolm Glazer. Maybe the place, but certainly not the time for scrutiny. all in all, very good, successful business man. Rest in peace. — Scott Williams (@scottwilliamss) May 28, 2014
Glazer's tenure as owner of Man United has not been without controversy, with many supporters claiming the squad has been on the decline since 2009. Glazer bought Manchester United for £790m in May 2005 amid protests from the Premier League club's fans. The club had no debts before the takeover and now owes nearly £400m.
As news of his death filtered through on social media, there were those who expressed their evident resentment of the Florida based billionaire, while others decried the lack of reaction from Manchester United players. "Disgusting how MUFC fans have treated the death of Malcolm Glazer he put loads of money into that club," said Jake Fielding on Twitter.
"Sad news re Malcolm Glazer I'm sure his intentions were good, and I pray that his legacy is secure," added fan, Nick Holland (@nh247) May 28, 2014
Disgusting how MUFC fans have treated the death of Malcolm Glazer he put loads of money into that club #disgusting

— Jake (@jake_fielding_) May 28, 2014
Glazer leaves behind his wife Linda, six children and 14 grandchildren. A private family funeral service will be held.