TripAdvisor will now show 'health and safety' warnings next to resorts on its website that have been reported by users to be locations of crime, the firm said Wednesday (8 November), reacting to a storm of controversy after it was accused of covering-up rape complaints.
The 'badges', shown in a red box at the top of the webpage, will identify health, safety and discrimination issues at destinations and last for up to three months at a time.
"If the issues persist we may extend the duration of the badge," company spokesman Kevin Carter told the New York Times. "These badges are intended to be informative, not punitive."
Carter said decisions will be made by an "employee committee" and pledged no listings would be removed based on the number of complaints or user reviews.
"We want consumers to see good and bad reviews of businesses," he noted.
Carter pledged that TripAdvisor will be clearer about the reasons behind review deletions in the future.
Other badges will help shine a spotlight on webpages that feature fake reviews or when a destination has become the centre of a major news story, meaning posts may be biased as a result.
The website has already added warning messages to three hotels in Mexico that recently hit the headlines after prior guests accused Trip Advisor of deleting accusations of sexual assault.
The three Mexico-based resorts were the Grand Velas Riviera Maya, the Iberostar Paraiso Maya and the Iberostar Paraiso Lindo. Each were highly-ranked on the website's search results.
A message reads: "TripAdvisor has been made aware of recent media reports or events concerning this property which may not be reflected in reviews found on this listing. You may wish to perform additional research for information about this property when making your travel plans."
The updates were introduced after multiple women came forward with serious rape allegations going back years. In 2010, TripAdvisor was alleged to have repeatedly removed the complaints of Kristie Love, 35, who claimed to have been assaulted at the Iberostar Paraiso Maya.
A separate complaint then emerged from another woman, Jamie Valeri, who opened up to IBTimes UK about her "horrific" experience at the same popular resort in Cancun. TripAdvisor removed Valeri's post twice, saying at the time that it had broken guidelines for being "hearsay".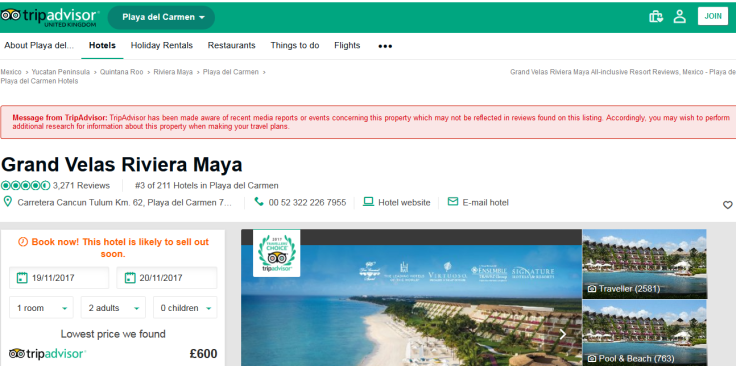 A spokesperson for Iberostar denied the allegations and told IBTimes UK that the company has "zero tolerance for any type of illegal or inappropriate conduct at any of our properties".
Yet the problems appear to be widespread. In total, more than 100 people told the Milwaukee Journal Sentinel that they had blacked out after drinks at the all-inclusive Riviera Maya hotel.
On Wednesday (8 November), Love hit out at Steve Kaufer, the CEO of TripAdvisor, for his reaction to the ongoing revelations, writing in a letter that he had failed to personally apologise, despite making the claim in a recent post he published to his LinkedIn page.

"Not receiving a single phone call or email from your company, my immediate thought was 'hearsay,'" she wrote (via USAToday), referencing the website's own term. "It was then brought to my attention this so called 'apology' was in the form of a press release dated 1 November 2017."
Responding, Kaufer sent a letter to Love explaining the updated warning policies.
He wrote: "While I know nothing I tell you can ever undo what happened to you, or make up for the anguish caused by not being able to warn others about your sexual assault on our platform at the time, I hope this letter helps clarify our current policies and explain the measures in place to ensure experiences like yours can be shared on TripAdvisor."