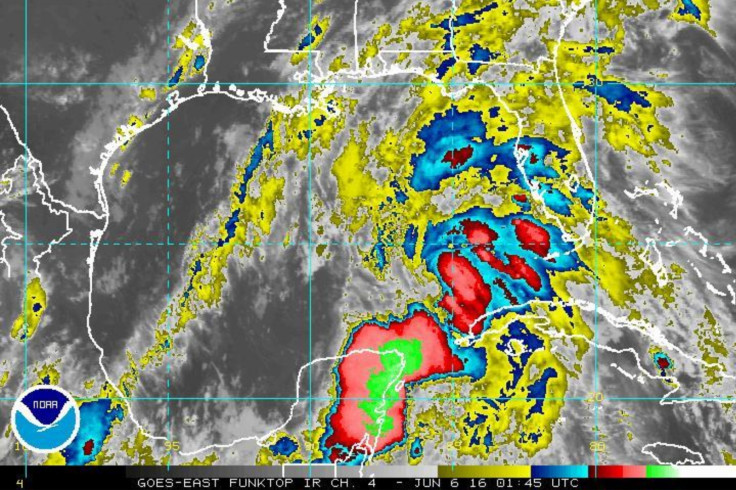 Tropical Storm Colin has strengthened and is expected to continue doing so as its nears the Florida coast Monday (6 June) evening. The National Hurricane Center has extended tropical storm warnings to North Carolina.
The cyclone was located about 35 miles south-southwest of Apalachicola, Florida and is moving northeast at 23 mph. Tropical Storm Colin has intensified to maximum sustained winds of 50 mph with a minimum central pressure of 1001 mb. The centre of the storm is forecast to move onshore of the Florida Big Ben area Monday evening, according to the NHC.
Colin is projected to move across northern Florida and southeastern Georgia to the southeastern coast of the US on Tuesday (7 June). The NHC extended its tropical storm warning from Sebastian Inlet in Florida to Oregon Inlet in North Carolina. There is also a tropical storm warning for Indian Pass to Englewood.
The NHC uses tropical storm warnings to alert tropical storm conditions within the warning area. The cyclone is expected to continue strengthening Tuesday and Tuesday night. According to the latest advisory, tropical storm force winds extends outwards up to 230 miles to the southeast of the centre. The WeatherFlow station in Clearwater Beach Pier recorded sustained winds of 40 mph with a gust to 49 mph.
The advisory warns Colin is predicted to produce between 3 to 6 inches of rainfall, with maximum totals of 8 inches possible in northeastern Yucatan peninsula in Mexico, western Cuba, northern Florida, southeastern Georgia and the coasts of North and South Carolina. Flooding could reach over 3ft with "localised coastal flooding and dangerous surf" possible along the Atlantic coast from Florida up to North Carolina.
The NHC warned that there is still a threat that Colin will cause a few tornadoes overnight across parts of Florida and far southern Georgia.
According to Reuters, Florida Governor Rick Scott declared a state of emergency in 34 of the state's 67 counties. Scott announced that more than 6,000 Florida National Guard members were activated and ready for deployment. "It's going to impact pretty much our entire state," Scott told reporters during a press conference. Local utilities have already reported more than 10,000 customers are without power ahead of Colin's landfall.
Colin is the third tropical storm to form in 2016 in the Atlantic and the earliest third storm on record to form. Hurricane season officially began on 1 June, but two named storms formed prior to the season's start. Hurricane Alex formed on 13 January and made landfall in the Azores, while Tropical Storm Bonnie soaked the South Carolina coast.
According to The Washington Post, the next storm will be named Danielle but long-range models do not reveal any indication of another storm for the next couple of weeks. The earliest fourth tropical storm recorded was Dennis in 5 July 2005.