Exxon Mobil chief executive Rex W Tillerson is likely to be nominated for secretary of state by Donald Trump, an official from the transition team said on Saturday, (10 December), Wall Street Journal reported.
According to the report, Trump has not yet made a final decision but he did lavish praise on Tillerson in an interview on Saturday. "He's more than a business executive; he's a world-class player. He's in charge of I guess the largest company in the world," Trump said in a pre-taped interview that will air on Fox News on Sunday.
"To me, a great advantage is he knows many of the players, and he knows them well. He does massive deals in Russia. He does massive deals for the company — not for himself, for the company", Trump added.
A spokesperson for the Trump campaign told the Guardian that the president-elect met the businessman for the second time in less than a week on Saturday morning. Transition team sources also told NBC News, CNN and New York Times that Tillerson was Trump's top choice. Former UN Ambassador John Bolton will serve as his deputy secretary of state, NBC added.
Jason Miller, Trump transition team spokesperson, took to Twitter and said, "No announcements on Secretary of State until next week at the earliest."
According to reports, Tillerson enjoys close ties to Russian President Vladimir Putin. In 2013, Russia awarded the oil executive with its highest honour, Order of Friendship.
In May 2014, the oil executive said at the company's shareholders meeting that he disapproves US sanctions on Russia. One of the deals between Exxon Mobil and Russia fell through due to sanctions imposed by the Obama administration over the annexation of Crimea. The announcement comes less than a day after the CIA revealed that Russian hackers interfered in US elections to help Trump win.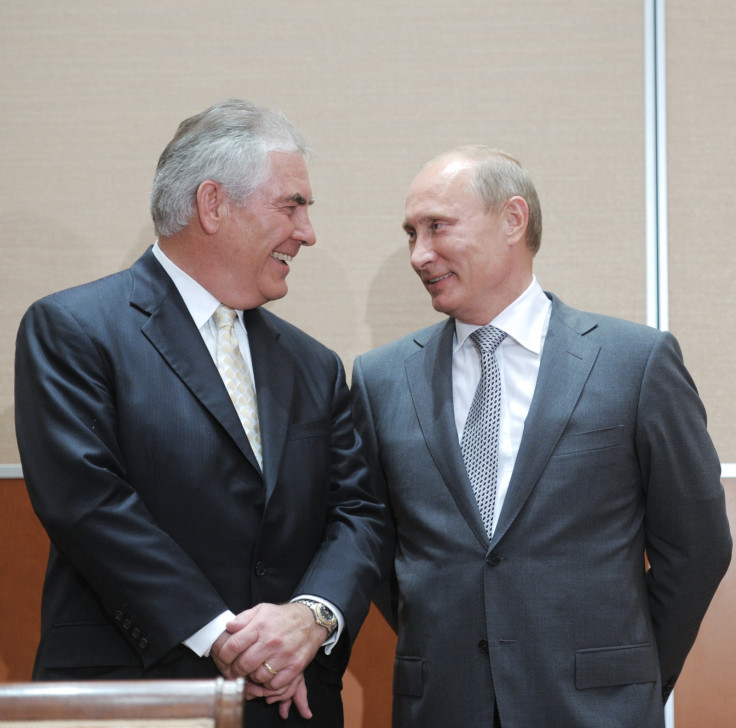 His ties to Russia could come under scrutiny at the time of the senate confirmation hearing. On Saturday, Republican Senator John McCain of Arizona said that the executive's connections to Russia are "a matter of concern to me. I'd have to examine it".
"Vladimir Putin is a thug, bully and a murderer, and anybody else who describes him as anything else is lying", he added.
Moreover, Tillerson's role in his company ExxonMobil — which is the fifth largest publicly traded company in the world could give rise to more conflict of interest. Tillerson's shares in his company are reportedly worth $151m (£120m).