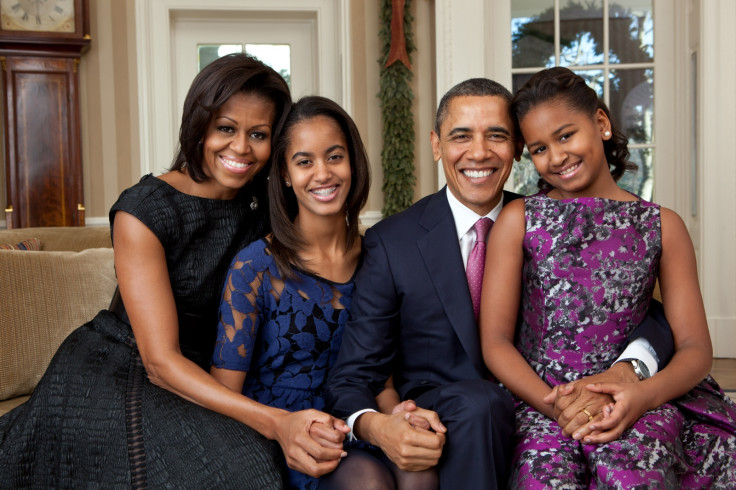 The Obamas have sent out their last White House Christmas card, causing many Americans to beg Barack Obama to stay on as their country's leader.
#DontLeave was used widely on social media as people shared pictures of the card.
It shows President Obama, who will depart the White House on 20 January, with First Lady Michelle and their daughters Sasha and Malia.
Inside, the greeting card reads: "Happy Holidays. As our family reflects on our many happy years spent in the White House, we are grateful for the friends we've made, the joy we've shared, and the gifts of kindness we've received. We wish you and your loved ones a joyous holiday season and a wonderful new year."
Remarking on the valedictory greeting card on social media, Wendy Giaccaglia said: "President Obama, PLEASE don't go. You can't leave us with him." 'Him,' being barbed reference to his successor President-elect Donald Trump.
Another tweeter said: "We are going to miss you so much POTUS and FLOTUS [President and First Lady of the United State]. Please don't leave us, we are lost and vulnerable without you."
Some, however, criticised the Obamas for the lack of Christian-themed language in their card, which instead opted for the more faith neutral, "Happy holidays."
This has been a common theme during Obama's presidency, though, with previous cards being panned for being too generic.
Former Republican vice presidential candidate Sarah Palin branded the 2011 card "odd" for a having a portrait of the White House dog Bo rather than traditions of "family, faith and freedom", but the inclusive approach is common for all presidents.
In 2005, George Bush's card depicted the White House covered in snow with the family dogs Barney and Miss Beazely outside. Inside it read: "With best wishes for a holiday season of hope and happiness."
On this occasion however, the Obamas did break with tradition as they opted for a family portrait rather than festively decorated rooms or the White House.
In the 2016 campaign to "Make America Great Again", President-elect Donald Trump said he would do away with the political correctness of saying "Happy holidays" and would say "Merry Christmas" instead.