"The era of strategic patience with the North Korean regime has failed. And, frankly, that patience is over," US President Donald Trump said on Friday (30 June) following his meeting with South Korean President, Moon Jae-in, in the White House.
The two leaders added that North Korea was the top-most topic discussed between them and their respective delegations. They also discussed stronger military ties and better trade.
In an apparent reference to the shocking death of US student Otto Warmbier after his return from Pyongyang where he fell into a coma during his 18 months of judicial custody, Trump further said that the US is facing "the threat of the reckless and brutal regime in North Korea" that "has no regard for the safety and security of its people or its neighbors".
The president vowed that his country would continue to act to defend US and its allies from North Korean threats.
Moon also warned that "threats and provocations from the North will be met with a stern response" and his country will "strengthen" its deterrence capabilities against the hermit kingdom. However, he added that he strongly wanted the Kim Jong-un regime to "promptly return to the negotiating table" to achieve a peaceful end to its nuclear programme, CNN reported.
North Korea too said in a recent statement that it was willing to negotiate with the new South Korea government, but accused Moon of double-talk. It warned that if Moon wanted inter-Korean reconciliation talks to take place, he would have to stop issuing anti-North Korea statements. The North also clearly stated that it does not want any outside forces to meddle with inter-Korean talks.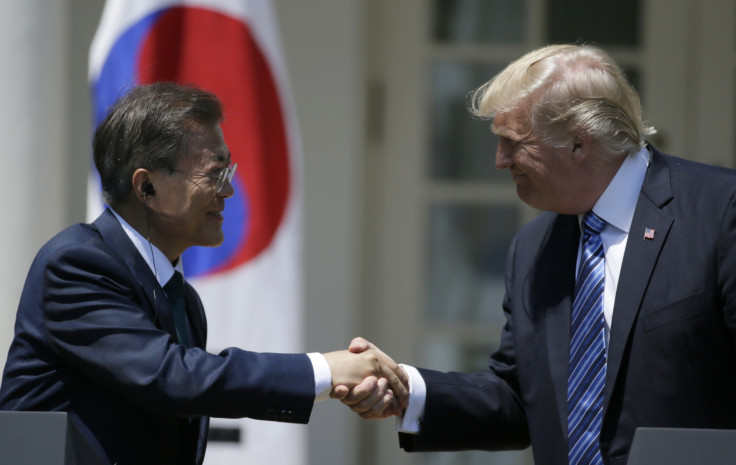 South Korea reportedly said that President Trump backed its initiative to resume talks with the North, in addition to taking other preventive measures.
"President Trump supported President Moon's aspiration to restart inter-Korean dialogue on issues including humanitarian affairs," a joint statement from the two leaders said. It added that they do not maintain a hostile policy toward North Korea and that the door to dialogue "remains open under the right circumstances".
"They affirmed their commitment to fully implement existing sanctions and impose new measures designed to apply maximum pressure on North Korea to compel Pyongyang to cease its provocative actions and return to sincere and constructive talks," the statement read.