The mysterious death of US student Otto Warmbier soon after his return from North Korea has prompted lawmakers to consider banning Americans from travelling to the reclusive state.
A proposed bipartisan bill, or the North Korea Travel Control Act, will ban American tourists from visiting North Korea. Those who need to travel to the country for reasons other than tourism will require a special permit from the Treasury department.
The House Foreign Affairs Committee is reportedly expected to introduce the legislation to the Congress within days or weeks.
South Carolina Republican Rep. Joe Wilson and California Democrat Rep. Adam Schiff are sponsoring the proposed travel ban bill.
The duo had introduced their bill even before Warmbier's tragic death over growing concerns of tourist safety in North Korea.
"The American people need to do know this. Because it does sound exotic to go to a Hermit Kingdom, but it's not exotic, it's dangerous and you're dealing with a maniacal society," Wilson reportedly said in a recent interview, according to CNN.
Warmbier, the 22-year-old student, was arrested for allegedly stealing propaganda posters of the Pyongyang regime. He was sentenced to 15 years of hard labour, but in a few months he became seriously ill - the causes of which still remains unknown. Warmbier died on 19 June, six days after returning home.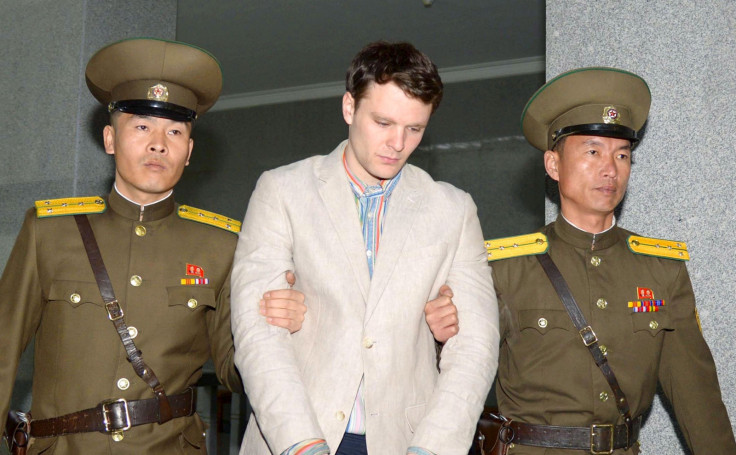 Wilson said that the unfortunate death of the student has prompted lawmakers to expedite the matter. Three Americans continue to remain in North Korean captivity and at least 17 US nationals have been detained by the Pyongyang regime in the past decade for varied reasons, he added.
House foreign affairs chairman Ed Royce also said that people need to be protected from falling prey to the tempting advertisements promising safe travels to North Korea.
"People watch these websites that guarantee they can go into North Korea and be secure, be safe, these glossy presentations - and the reality is that many of these visitors end up being used as bargaining chips by the North Korean regime."
Warmbier's father had blamed a China-based tour company that took his son for the North Korea tour. He had accused North Korea of using the tour operators to lure young Americans to their country so they can use them as bargaining chips with the US administration.