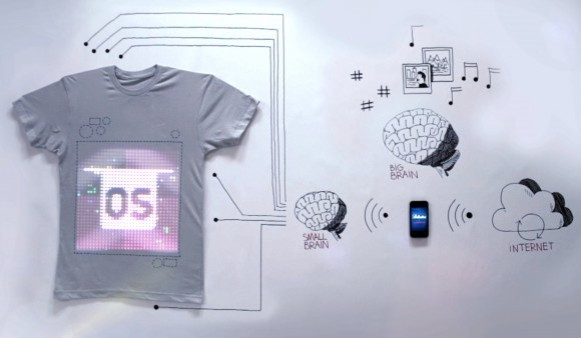 Ever wished you could wear your favourite digital technology? Well now is your chance, thanks to the world's first wearable and programmable T-shirt, which has been developed by the Scotch whisky maker Ballantine and CuteCircuit, a London-based designer of hi-tech garments.
The so-called "tShirtOS" comes with an interactive integrated display and a camera. A video showcasing a smart-shirt prototype designed by CuteCircuit has gone viral among the world's technology fans (check out the video at the end of this story).
As IGN notes, the T-shirt will be able to communicate with a proprietary iPhone app, presumably via Bluetooth, which means you could carry your phone up a sleeve.
The most challenging issues are comfort, price and durability, as the T-shirt does not seem to have been put to the test in the real world. Nobody has any idea how the gadget's camera and LEDs would withstand heavy rain, windy conditions or even a machine wash.
Redmond Pie notes that tShirtOS could herald a new era of wearable digital technology.
The embedded microprocessor in the garment connects wirelessly to any downloaded iOS app, which can directly interact with the T-shirt. With a built-in screen made of 1000 RGB LEDs, it can display text and images from social-networking sites such as Facebook, Instagram or Twitter.
The T-shirt maker claims that the T-shirt has the world's smallest camera (measuring 2.5 x 2.9 x 2.5 mm) embedded in the garment, which is capable of taking snapshots for the shirt's 32 x 32 pixels resolution integrated display. It is not clear how the entire setup works. The gadget also features Bluetooth support, a built-in accelerometer and USB support for connecting peripherals.
Those interested may sign up the official Facebook page for updates relating to tShirtOS
Watch the World's First Programmable T-Shirt in Action Below: