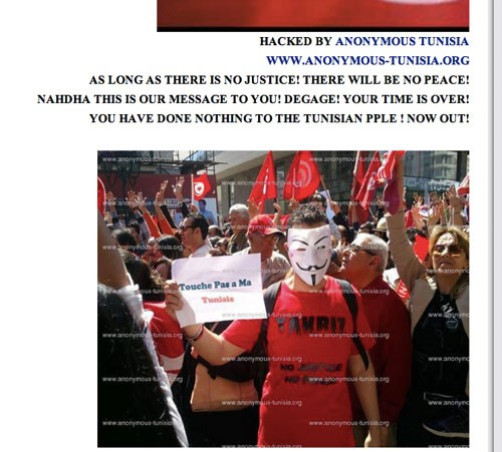 The Tunisian branch of the Anonymous collective has defaced the unofficial website of the country's ruling Ennahda party to protest against the lack of progress since the fall of Zine El Abidine Ben Ali.
The hacktivists left a message on the homepage of Nahdha calling for the party to step down from government.
"As long as there is no justice, there will be no peace," reads the statement. "Nahdha, this is our message to you! Leave! Your time is over! You have done nothing for the Tunisian people! Out now!"
According to a member of Anonymous quoted by the Tunisia Live website, the Ennahda party, which claimed victory in October in the first election since the Arab Spring, has betrayed the Tunisian revolution.
"Ennahda did not do anything at all. Where are the 400,000 jobs? Where are the killers and snipers? Where are all the election promises?" he asked.
He also claimed that the moderate Islamist party did not take any action against Salafist attacks "Where is the guy who dropped the Tunisian flag at Manouba University? We won't stop as they do not do justice," he said.
A group of Salafists recently besieged Manouba University in Tunis demanding an end to mixed-sex classes and asking female students to wear the full veil.
The anon warned that Ennahda's secret files would be published soon if the party does not fulfil its promises. "We have access to their secret files and we will publish them when the right moment comes," he said.