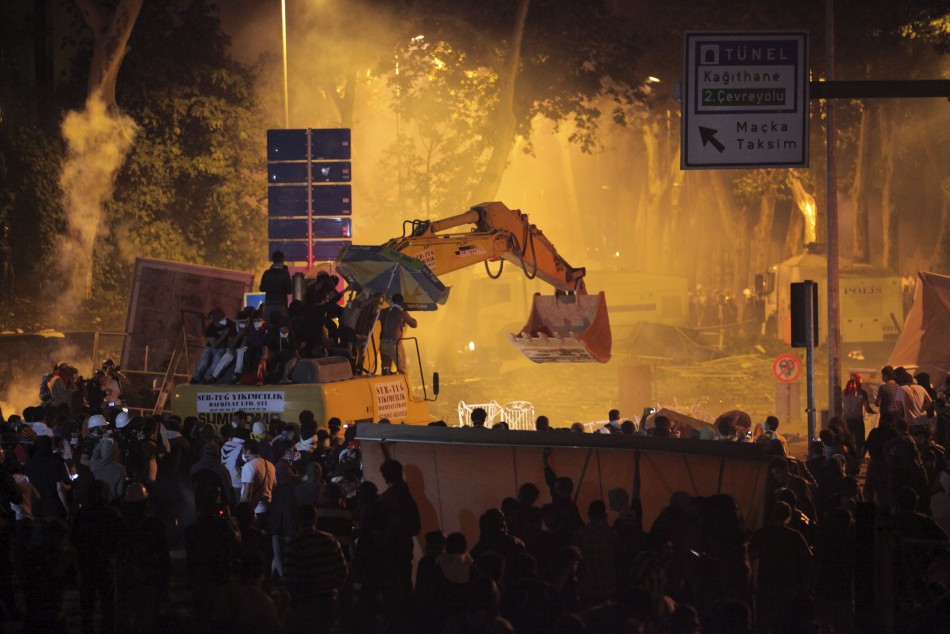 Turkey's Prime Minister Tayyip Recep Erdogan has blamed an "extremist fringe" for the protests that have rocked the country and labelled social media "the worst menace to society" for its role in organising the unrest.
Erdogan said intelligence services were investigating foreign links to the demonstrations and dismissed any comparison to the revolutions that swept the Arab world in 2011. "It is nonsense to compare Turkey to other Arab Spring nations. We have elections," he said.
"We will not allow these extreme groups to capture the PM's Office in Istanbul or any other state building," he said, referring to an arson attack on the HQ of the ruling AK Party in Istanbul.
The main opposition, the Republican People's Party (CHP), was the orce behind the protest, he claimed.
"We think that the main opposition party, which is making resistance calls on every street, is provoking these protests," Erdogan said. "There is now a menace which is called Twitter. The best examples of lies can be found there. Social media is the worst menace to society."
He also dismissed claims that the protests had hit Istanbul's main share index, the 100 Borsa Istanbul (BIST), which fell 8 % on opening on Monday. The Turkish lira was at an 18-month low against the US dollar.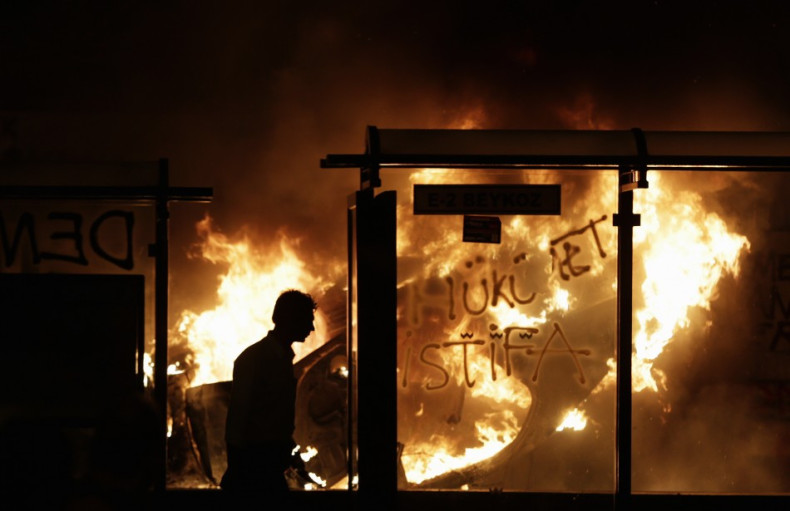 Turkish protesters clashed with riot police into the early hours but Taksim Square, the focal point of the trouble, was quiet later.
The area of Besiktas was worst hit with protesters using a mechanical digger to smash through police lines in an attempt to enter a government office while the crowd yelled: "Dictator, resign! We will resist until we win."
Police pulled out from Taksim Square, the symbolic heart of the demonstrations which started as a small, peaceful protest to save a popular city park from demolition and replacement with an Ottoman-style shopping mall. Protests spread to Turkey's four biggest cities, with demonstrators throwing firebombs at the offices of the AK party in Izmir.
Interior minister Muammer Guler said that more than 1,700 people had been arrested and that 58 civilians and 115 security officers had been injured.
A doctors' union in Ankara said that more than 400 civilians had been injured, some seriously.
The unrest began as a local protest against the redevelopment of Gezi Park, a rare green public space in central Taksim Square, but turned into a widespread protest against the perceived authoritarianism and Islamist agenda of Erdogan.
He was due to fly to Morocco, Algeria and Tunisia on an official visit.
He remains Turkey's most popular politician, but tighter restrictions on alcohol sales and warnings against public displays of affections have sparked increased domestic criticism.
READ:
Turkish Activist Nagehan Uskan: Today We Are All Someone New [BLOG]