Turkish Prime Minister Binali Yildirim has called on President-elect Donald Trump to stop supporting the Kurdish Democratic Union Party (PYD) in Syria. The US-led coalition backs the People's Protection Units (YPG), affiliated to the PYD, mostly including Kurdish fighters who are advancing against the Islamic State-held city of Raqqa in northern Syria.
"The world talks about Daesh [Isis] but it does not fight it. It is only Turkey that fights against Daesh. The United States and others do nothing. They just supply the PYD with weapons," said Yildirim on 3 January, in a weekly parliamentary address to his ruling Justice and Development Party (AKP) members, as quoted by Turkish newspaper Hurriyet.
"What we expect from the new administration is to bring an end to this shame," Yildirim said, referring to Trump, who will take over from President Barack Obama on 20 January.
"We do not hold the new administration responsible for this situation, because it was the achievement of the Obama administration," he added.
In December, Turkish President Recep Tayyip Erdogan accused the US of supplying the PYD with weapons, allegations that the US denied.
Turkey's military operation in northern Syria is split on two fronts, one fighting the Islamic State, around the town of al-Bab, and one against Kurdish fighters, whom Turkey considers terror organisations for their ties to the outlawed Kurdistan Workers' Party (PKK). While the US recognises the PKK as a terror group, it considers the PYD and YPG crucial partners in fighting IS militants.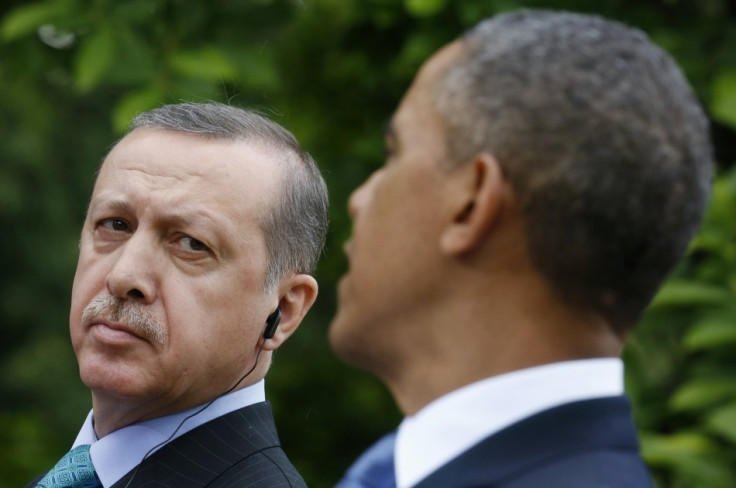 A British man who died in Syria fighting along the YPG forces against Isis had a first-hand experience of the Turkish airstrikes against Kurdish fighters. The Guardian newspaper reported on 2 January that 20-year old Ryan Lock, a former cook with no previous fighting experience, joined the ranks of the Kurdish YPG fighters against Isis in September.
On 24 November, Lock's unit was targeted by an airstrike, allegedly carried out by Turkish jets, in Arima, a village 13 miles north-east of the Isis-held city of Bab. Lock survived that attack, but 12 of his fellow fighters died in the bombing, including an American, Michael Israel, and a German national, Anton Leschek.
According to the Guardian, Lock posted a picture of himself with facial injuries afterwards, along with the words: "We were taking a small village when we got hit by Turkish jets in the night. Two of my friends, Anton and Michael, were killed among many others. I'm staying to finish out my six months. Fuck Erdogan and fuck Turkey."
Lock was killed fighting against Isis on 21 December along with four other fighters. The YPG wrote a heartfelt condolence letter to his family. "Ryan was not only a fighter providing additional force to our struggle. In fact, with his experience and knowledge he has been an example for younger fighters. While he has reached a vast amount of achievement up in our frontlines, Ryan has served the purpose of a very important bridge between us, the Kurds of Rojava. He crossed continents for the destiny of our people and humanity," the YPG letter read, as quoted in the Guardian.