Cybercriminals are trying to use Twitter to spread the notorious Blackhole malware by teasing users with messages like "It's you on photo?" and "It's about you".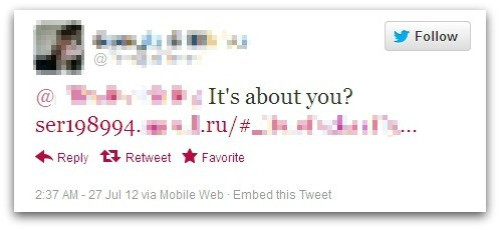 The Blackhole exploit kit is one of the most notorious pieces of malware on the web and has been widely used by cybercriminals across the globe to infect millions of PCs. Russian in origin, Blackhole has been around since 2010 and while traditionally distributed using spam email, criminals are now using Twitter to spread the virus.
Thousands of malicious links are being spammed out to Twitter users around the globe, targeting users of the micro-blogging site by sending messages with "It's you on photo" and "It's about you."
The messages also contain a link which security company Sophos has discovered, points to Russian webpages which ultimately attempt to infect your Windows PC using the notorious Blackhole exploit kit.
Sophos has identified a pattern in the tweets, which are being sent out from accounts created specifically by hackers or legitimate accounts compromised by the criminals. The pattern is:
@[Username] It's you on photo? [Domain]/#[Username].html
Graham Cluley, security expert with Sophos warns that the wording of the message may be altered as people get word of the malware threat: "Of course, the cybercriminals behind the campaign could change the wording used in the dangerous tweets at any time."
The Blackhole exloit kit is a piece of software which can be bought by cybercriminals and tweaked to carry out various actions. It was also the first piece of malware which could be rented from the creators with an annual licencing fee of $1,500.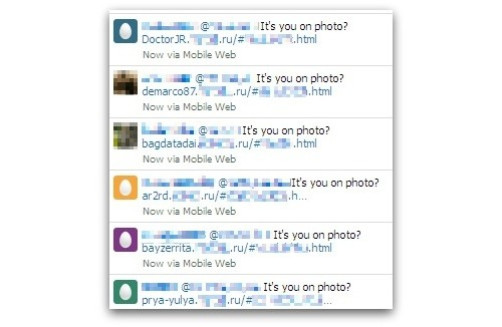 If you do click on the link and your computer gets infected, you are risking not only your PC, but the data which is stored on the PC.
"There's a real danger that if Twitter users have not properly protected their PCs, and unless they are warned of the risk, that many people will click on the links without suspecting that they are putting their computer and personal data at risk," Cluley adds.