Twitter staff gathered in their hundreds around big-screen projectors, Sir Patrick Stewart placed his finger on the opening bell of the New York Stock Exchange, and the company itself simply said: "#Ring!".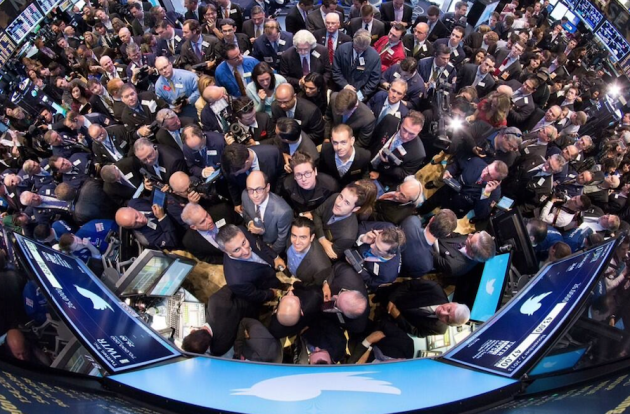 The social network kicked off its life as a public listed company on 7 November and the most frenzied reaction to its $45.10 (£26.80) starting price was, perhaps unsurprisingly, found on Twitter itself.
The company's share price started 73% up on its initial public offering (IPO) price of $26 - a stark contrast to Facebook, which struggled to end the day above its IPO of $38 when it floated in May, 2012.
Sir Patrick was joined by Vivienne Harr, a nine-year-old girl from California who ran a lemonade stand at her home for 365 consecutive days to raise money to help abolish child slavery and Boston police officer Cheryl Fiandaca. Also present were Twitter co-founders Biz Stone, Evan Williams and Jack Dorsey along with CEO Dick Costolo.
Honored to join @ev @jack @biz @dickc & the @Twitter team at their historic IPO this morning. #Ring! pic.twitter.com/XaJpYW2kIh
— Patrick Stewart (@SirPatStew) November 7, 2013
The phrase '#TwitterIPO' became a trending topic on the social networking site, while it was also in fifth position on Google's Hot Trends page. Twitter employee Dariy Demko tweeted a photo of the company's California office, showing staff eagerly waiting for trading in their company to begin.
All eyes glued ready to watch Twitter's first trade #TwitterIPO pic.twitter.com/3ytFBOviUe
— Dariy Demko (@dariy) November 7, 2013
Twitter co-founder Jack Dorsey extended his thanks to his team.
A thank you and congratulations to @dickc, @mgupta, @vijaya, @gabrielstricker, and the @Twitter team! $TWTR
— Jack Dorsey (@jack) November 7, 2013
Echoing his first ever tweet, company co-founder Dowsey said: "Just setting up our $twtr," and posted a Vine video of the stock exchange trading floor. On 21 March 2006, Dorsey published his first tweet, saying: "just setting up my twttr."
just setting up our $twtr https://t.co/OqQRtzaw9v — Jack Dorsey (@jack) November 7, 2013
In another act of nostalgia, another of Dorsey's original tweets, "trying to figure out the future of media" was retweeted by many users, having been dug out of the network's achieve. Seven years later, and Dorsey and his team's efforts to figure out media have resulted in a company worth $32 billion.
trying to figure out the future of media — Jack Dorsey (@jack) June 22, 2006
Sir Richard Brandon tweeted to extend his congratulations to Dorsey and the rest of Twitter's staff, saying he looks forward to where the company goes next.
Many congrats @jack & @twitter team – love interacting here & look forward to where it goes next http://t.co/kk5WVtoKId — Richard Branson (@richardbranson) November 7, 2013