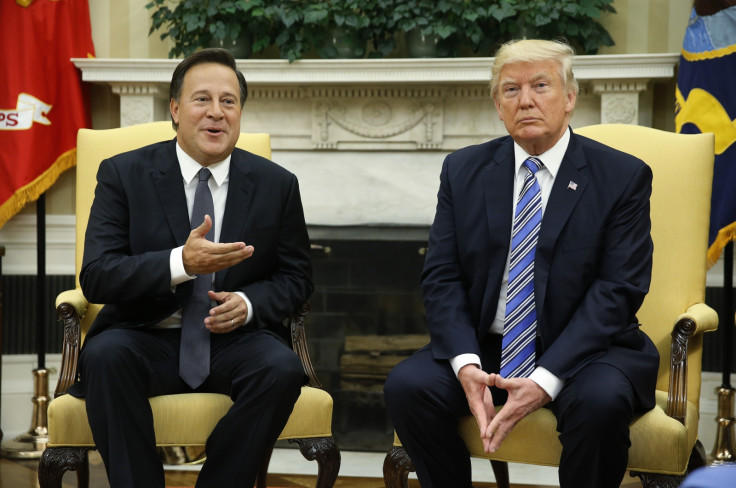 US President Donald Trump met Panamanian President Juan Carlos Varela at the White House on Monday (19 June) and took the opportunity to discuss security, the battle against drug trafficking, economic issues - and the Panama Canal. During a photo opportunity in the Oval Office, Trump said the US did a "good job" building the more than 100-year-old Panama Canal.
The Panama Canal was constructed by the US from 1904 to 1914 and connects the Atlantic and Pacific oceans. The US later transferred control of the canal to Panama in December 1999.
"We have many things to discuss," Trump told reporters. "We're going to spend quite a bit of time today. The Panama Canal is doing quite well."
"I think we did a good job building it, right?" Trump said, turning to Varela. "Very good job."
Varela responded: "Yeah, one hundred years ago."
Trump continued: "We are developing new things to do and only getting stronger. And also, friendship with the president is very, very good."
Varela thanked Trump and said: "The idea for this visit is to work closely together as we face the same challenges we have in the region of Central America and Latin America."
Meanwhile, Twitter immediately pounced on the opportunity to mock Trump over his "bizarre" comments on the Panama Canal.
"Trump just took credit for building the Panama Canal," SiriusXM radio host John Fugelsang tweeted. "Now he's pissed off the ghost of Teddy Roosevelt."
One Twitter user wrote: "Trump knows less about Panama than David Lee Roth does." Another tweeted: "Who knew canal building could be so hard."
"Trump's idiocy remains unsurpassed," one person tweeted.