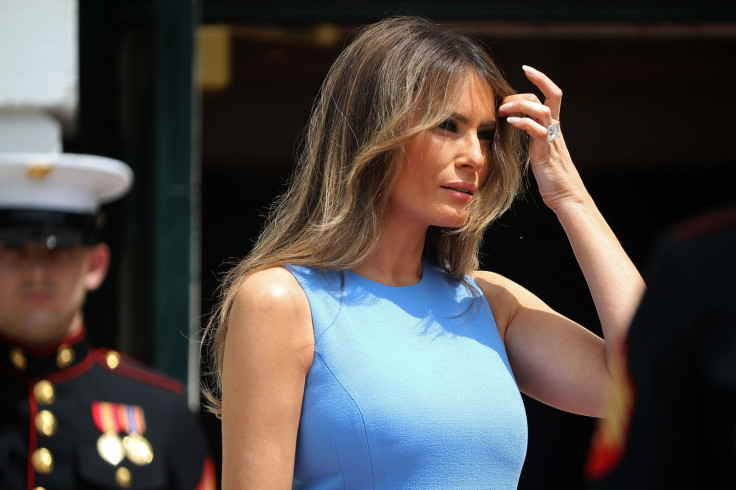 One of Melania Trump's recent wardrobe choices reminded fans of former first lady Michelle Obama. While greeting Panama's President Juan Carlos Varela and his wife Lorena Castilla at the White House on 19 June, the First Lady channelled a simple blue sheath that was almost similar to the one Michelle wore in April 2015.
The 47-year-old Flotus was elegant in a form-fitting three buttoned dress designed by Michael Kors and she accessorised it with floral heels from Christian Louboutin. Former first lady Michelle had worn a bright blue dress while posing for a family portrait with husband Barack Obama, daughters Malia and Sasha and their dogs Po and Bunny.
The 53-year-old wife of the former Potus, who is also a fitness enthusiast, loves to highlight her toned arms in sleeveless ensembles. And it seems Melania is following her predecessor as she defied the hot weather while meeting the Panama president and his wife.
"Enjoyed hosting Mrs. Varela of Panama @WhiteHouse for lunch today. I look forward to working alongside her in the future," the official Twitter page of the First Lady wrote as it tweeted a picture of Lorena and Melania.
Melania wore the same blue dress to the Presidential Scholars Program. "Congrats @usedgov 2017 Presidential Scholars Program students!! An honor to speak w some of our nation's most distinguished graduates," she wrote as she posed with the students.
The current Flotus has gained a unique spot amid the fashion circle for her classy wardrobe choices and for her preference for bright colors. One of her recent expensive wardrobe choice, however, was criticised by many. During her trip to Sicily in May, she rocked a $51,500 (£40,000) floral 3D-embellished jacket. Designed by Dolce & Gabbana, the First Lady combined the high fashion jacket with an understated figure-hugging dress.