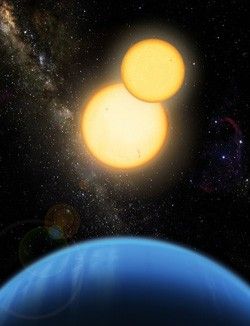 Astronomers from the San Diego State University have discovered two new circumbinary planets, Kepler 34b and Kepler 35b, which are orbiting a pair of Sun-like stars.
The astronomers discovered these Saturn-sized planets with the NASA's Kepler Mission's data.
The Kelper 34b is 4,900 light years away from the Earth and it takes 289 days to revolve around its stars. The Kepler 35b is 5,400 light-years away from the Earth and it takes 131 days to revolve around its stars.
According to the astronomers, planets that have two Sun-like stars are called circumbinary planets. The temperature in circumbinary planets keeps varying due to the amount of the sunlight received from both the Sun-like stars.
Only seven circumbinary planets have been found so far. The first circumbinary planet was found orbiting PSR B1620-26, a pair of Sun-like stars discovered in 1994.
"It was once believed that the environment around a pair of stars would be too chaotic for a circumbinary planet to form, but now that we have confirmed three such planets, we know that it is possible, if not probable, that there are at least millions in the galaxy," said William Welsh of San Diego State University in the U.S., who led the research team.
"The effects of these climate swings on the atmospheric dynamics, and ultimately on the evolution of life on habitable circumbinary planets, is a fascinating topic that we are just beginning to explore," he said.
"These planets can have really crazy climates that no other type of planet could have," said Jerome Orosz, a co-author from San Diego State University.
"It would be like cycling through all four seasons many times per year, with huge temperature changes," he said.
Watch the video: