Hip hop star Tyga has reportedly filed legal papers seeking custody of his three-year-old son in the wake of Blac Chyna's arrest for drug possession. TMZ reports that the Stimulated hitmaker was shocked when news broke that Blac Chyna, the mother of his son, had been taken into police custody for public intoxication, and is now concerned about their child's wellbeing.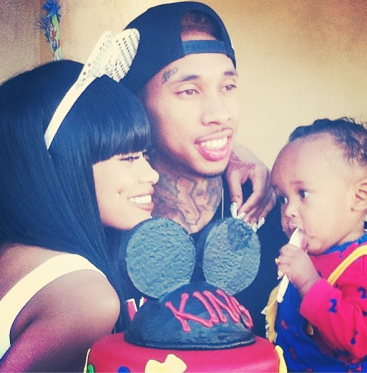 Chyna, a former erotic dancer, was arrested at the Austin-Bergstrom International Airport on 29 January. She was released on an $8,000 (£5,528) bond and is due back in court in Texas at the end of February. Texas court records reveal that she pleaded not guilty to the charges.
In an awkward twist, Chyna, whose real name is Angela Renee White, is currently in a relationship with Rob Kardashian, who is the brother of Tyga's 18-year-old girlfriend Kylie Jenner.
Their relationship has already caused a stir within the Kardashian clan. Chyna has been been embroiled in a long-running feud with Jenner after Tyga moved in with Snapchat queen Kylie.
Tyga, who filed the documents in his real name Micheal Ray Stevenson, is said to have asked for Cairo to stay with him and allow visitation for Chyna on weekends.
Meanwhile, TMZ has reported that Rob Kardashian's family are worried that his romance with Chyna may increase the possibility of him returning to drugs. The report added that Rob is not listening to anyone except Chyna, and his mother, Kris Jenner, is so desperate that she reportedly resorted to visiting the home of her son's new love interest to give him his insulin and Rx medicines.