The new year of 2016 is only a few days in but Tyga has already found himself at the centre of a scandal. The hip-hop star, who is Kylie Jenner's other half, has been hit with allegations that he sent sexual messages to a 14-year-old girl.
Molly O'Malia is taking legal action against OK! Magazine after it published an article suggesting that she had a sexual relationship with the 26-year-old rapper, who real name is Michael Ray Stevenson, and was the cause of his brief split with Jenner. Speaking at a press conference with her lawyer Gloria Allred, O'Malia alleged that he contacted her first and made her feel uncomfortable. This is not the first time the rapper has attracted scrutiny. As the drama rolls on IBTimes UK recaps his other eyebrow-raising moments.
Kylie Jenner romance
In 2014 rumours started swirling that Tyga was dating reality star Kylie Jenner, who was eight years his junior. As the age of consent is 18 in California, the lovebird's relationship did not go down well with fans, with some calling for the Rack City rapper to be jailed. The controversial romance even triggered a war of words between Amber Rose and Khloe Kardashian (Jenner's older sister). But after months of denying that they were an item, they finally went public following her 18th birthday.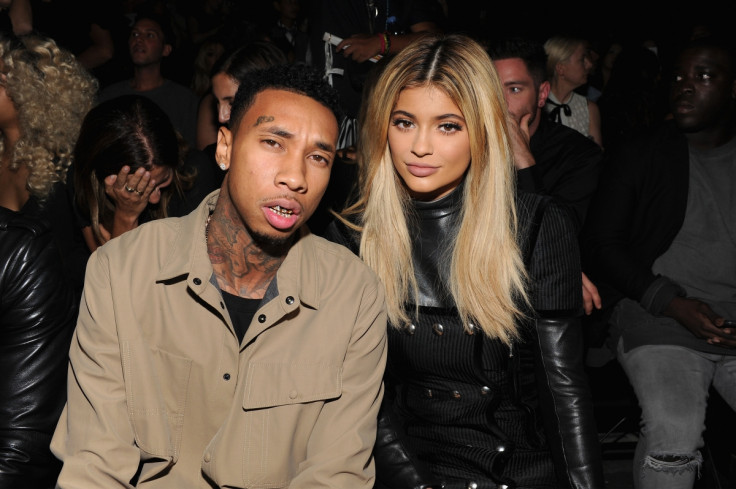 Bankruptcy claims
In 2015 reports emerged that Tyga, who is worth an estimated $6 million (£4m), was set to file for bankruptcy after being hit with a tax lien. At the time it was reported that he owed $19,000 in unpaid taxes for 2009, 2010 and 2011 and also owed his former landlord $70,000 in unpaid rent. While he has never addressed the reports, is apparent money woes have not stopped him living the lavish life he has grown accustomed to.
Young Money fall out
In 2014, the Stimulated hit maker fell out with Young Money boss Lil Wayne and label mates Drake and Nicki Minaj claiming that he was underpaid and undervalued. Speaking to Vibe magazine in October 2014, Tyga said: "I'm tryna go independent. I don't really get along with Drake. I don't really get along with Nicki. I don't like Drake as a person. He's just fake to me. I like his music; you know what I'm saying? I think his music is good, but we're all different people. We were forced together and it was kinda' like we were forcing relationships together. It is what it is."
Within months Chris Brown's BFF had achieved his goal of going independent and he is currently under his Last Kings label. In May 2015, Minaj was accused of branding Tyga a "pervert" in her Feeling Myself music video, which features Beyoncé, for his romance with then 17-year-old Kylie Jenner by wearing a baseball jersey with the slogan "Pervert 17" on the front.