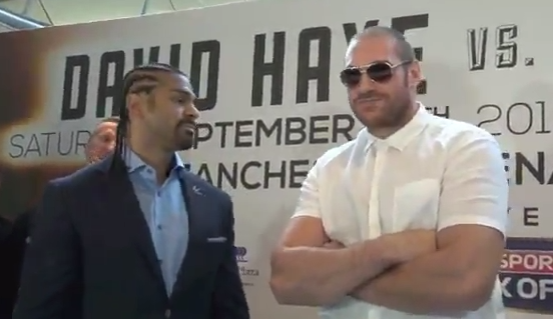 Tyson Fury has questioned whether David Haye still has the desire to fight him after their highly anticipated clash originally scheduled for this Saturday was scrapped.
Haye was forced to pull out of the Manchester fight just seven days before the big night after suffering a deep cut above his forehead during a sparring session that required six stiches.
Another clash early in 2014 was hastily arranged between Hennessy Sports and Hayemaker Promotions but both fighters were disappointed with the setback, particularly the unbeaten Fury who accused the former two weight world champion of looking for excuses not to fight.
The unbeaten Manchester fighter is now calling for contractual assurances that the fight will go ahead to ensure he is not left in a similar position next February.
"Is David Haye going to stick to his guns and take the fight again or us he going to take another fight in the meanwhile, flight a Klitschko or Povetkin. Is he really going to take this fight?" Fury told Sky Sports News.
"If we do go and do get this fight again - it's been set but there's no contracts signed - I want him to sign in the contract that if he pulls out he pays for all my training camp and has to be guaranteed.
"I'm not going through all this torture again, weeks and weeks and weeks of training and being away from my family for months on end, for it to get to the fight week and him to pull out.
"I would have fought with two cut eyes, I would have fought with a broken leg. There was nothing that was going to stop me from fighting. I had injuries before that fight, you can't go through a 15 week training camp and not expect to get an injury. But I didn't mention them, it's not in my mentality to do that,
"We are messing with an excuse maker and somebody who doesn't really want this fight in my opinion, so I am not going to hold my breath for him taking this fight."
With five months to wait until the two heavyweights collide, Fury's promoter Mick Hennessy is keen to ensure the months of training the unbeaten heavyweight has undergone does not go to waste, and is hopeful of arranging a fight before Christmas, if he can locate an opponent.
"We are looking to fight soon, we are five months away and as long as we do something that won't be anywhere near the fight I don't see that being a problem," Hennessy told Sky Sports.
"Tyson deserves that, he pulled out of a final eliminator to fight David Haye, he's had one fight this year and that's not how Tyson Fury rolls.
"If a fight does take place it will have to take place in early mid-November but we haven't looked at any opponents yet."