Tyson Fury will be forced to vacate IBF world title if he goes ahead with Wladimir Klitschko rematch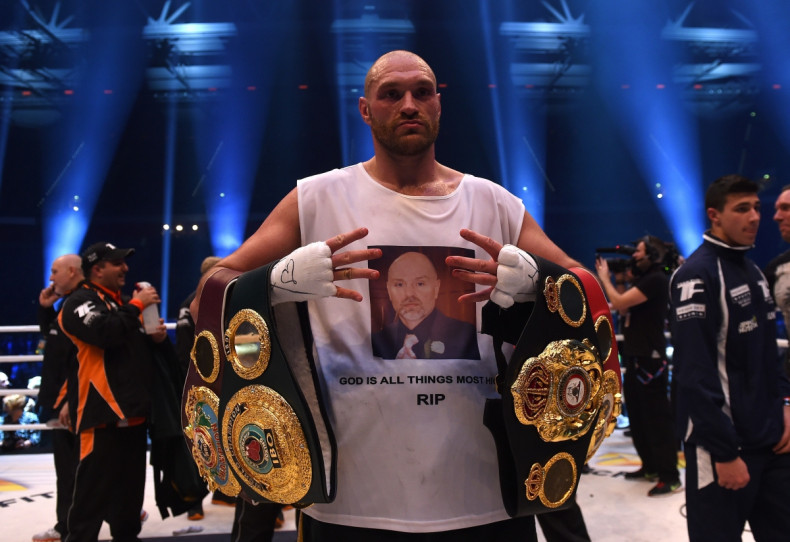 Tyson Fury faces being stripped of the IBF world heavyweight title just days after defeating Wladimir Klitschko. The Briton – also the holder of the WBA, WBO and IBO crowns after his unanimous victory in Dusseldorf – has been ordered to prioritise a fight with mandatory challenger Vyacheslav Glazkov ahead of a rematch with Klitschko.
Refusal to agree to a fight either before 11 December or following the subsequent purse bid will see Fury forced to vacate one of his three belts. Though Klitschko has a contractual agreement to a second fight in 2016, which the Ukrainian agreed to on 2 December, the IBF insist their rules take priority.
The Manchester boxer's camp are still hopeful a rematch with 39-year-old Klitschko will be prioritised, and are planning an immediate appeal against the rule. International Boxing Federation chairman Lindsey Tucker says, however, there is no room for negotiation.
"To be clear, Tyson Fury must fight Vyacheslav Glazkov next," the IBF chief told World Boxing News. "If they agree terms before December 11 we cancel the purse bid. If it goes to a purse bid, the winning bidder has 90 days to do the fight. Regarding the Klitschko rematch taking precedence, it's just the opposite as the mandatory takes priority of the re-match.
"In fact Rule 3B Return Bout states: No contract for a Championship contest shall contain any clause or provision, whatsoever, guaranteeing or in any way assuring or promising either contestant a return Championship contest where such clause or provision interferes with the mandatory defence of the Title."
The development means that the Fury-Klitschko rematch will likely only be for the WBO, WBA and IBO belts, rather than the four which were contested for in Germany. Uncle and trainer Peter Fury is fuming over the judgement but says his nephew will vacate the title rather than face Glazkov should an appeal fail.
"It's absolutely scandalous," he told Boxing News Online. "I've not spoken to Tyson yet but we're dealing with it. But we've got a rematch that we're tied to, we have to take that fight. A fight of this magnitude, the IBF should only be too happy to be involved in such a megafight.
"We're going to appeal to them but if they insist on stripping us, then that belt will go in the dustbin because their belt will mean nothing. If they want to treat us with such disrespect then Tyson Fury will go on national television and throw that belt in the bin.
"They're not giving him the chance to hold that belt, he's come all this way in boxing to unify the division. It's a very, very poor start from the IBF to suddenly say, 'we're going to strip you,' when we've got obligations to Wladimir Klitschko, it's all in the paperwork. The IBF need to get a grip with it, they need to speak with us and they need to get behind Tyson Fury."