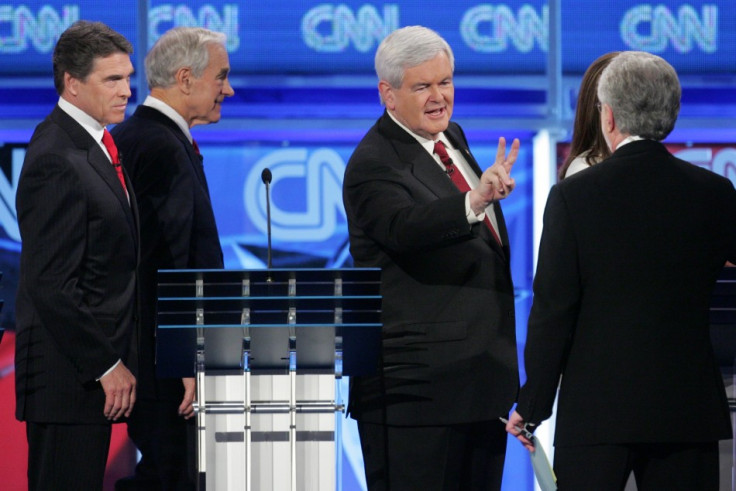 The Republican presidential candidates debated foreign policy issues Tuesday evening.
The eight candidates met at Washington's Constitution Hall and spoke on a wide range of topics, including Afghanistan, Pakistan, the Iranian nuclear program, Syria, border security, the Patriot Act and post-9/11 anti-terrorist laws. All eight candidates outlined strong policy options when discussing Iran's nuclear program and keeping America safe from terror attacks.
However, according to a report in The New York Times, the Republican hopefuls failed to agree on a single security vision.
Former House Speaker Newt Gingrich, for example, said he would support an Israeli strike against Iran only as a last resort and as a prelude to regime change. Businessman Herman Cain went further, saying he was open to helping the Israelis in an attack on Iran, although he wanted the terms of the engagement and victory conditions clearly defined. Former Massachusetts Gov. Mitt Romney said, in turn, that he would "stand up to Iran with crippling sanctions."
On the issue of U.S engagement in Afghanistan, former Utah Gov. Jon M. Huntsman Jr. called for the immediate withdrawal of troops from that country, while Romney argued that U.S. troops should be allowed to stay longer than President Barack Obama's sanctioned orders.
Specifically, Obama, in June, ordered the withdrawal of 10,000 troops from Afghanistan by the end of 2011 and another 23,000 by September 2012. Actual transfer of security to the Afghans is not scheduled to happen before 2014.
Texas Gov. Rick Perry called for a no-fly zone in Syria and also suggested that the U.S. cut off all aid to Pakistan. The Republicans also differed on possible cuts to military expenditure. On Monday, the special congressional super committee failed to reach an agreement on $1.2 trillion in deficit reductions, which could trigger $500 billion in reductions to the Pentagon budget over the next 10 years.
Finally, the candidates also spoke about border security and immigration issues.
Gingrich, in the televised discussion, said he would support the continued residence of selected illegal immigrants, those who had been in the country for appreciable periods of time, paid taxes and raised families.
The debate was attended by a list of high profile names, including Edwin Meese III, who served as attorney general under President Ronald Reagan; Paul D. Wolfowitz, a former deputy defense secretary and a leading architect of the Iraq war under President George W. Bush, and David S. Addington, counselor to former Vice President Dick Cheney.