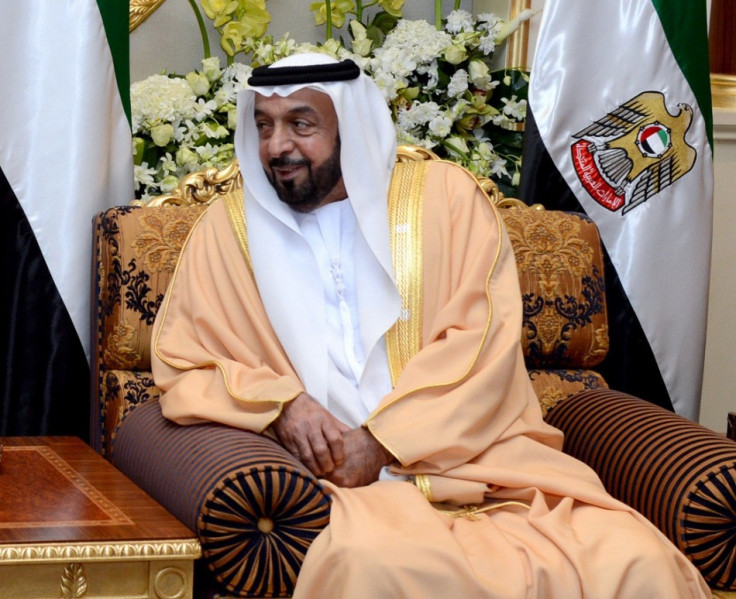 When Sheikh Khalifa bin Zayed al-Nahyan, president of the United Arab Emirates, lands in the UK, he will be greeted with the full pomp and ceremony of a state visit, a sickly wooing of his favours in the hope of more money-spinning business with the wealthy Gulf state.
The British government's integrity will be tested. Not on its ability to win more trade with the UAE, a simple task which could be secured by sycophancy and ego-stroking alone. Its biggest test will be to see if it has the guts and heart to pursue with punch the UAE's worsening human rights record and allegations of torture by Dubai authorities against British citizens.
There will be meetings with Prime Minister David Cameron at Downing Street and Prince Charles at Clarence House. A fog of secrecy surrounds exactly what will be discussed, lest someone upsets the touchy 65-year-old billionaire with human rights quibbles and ruins a chance to make money for the black and blue British economy.
Sheikh Khalifa, whose family is worth $150bn, will enjoy a banquet with the British royals on his arrival to make him feel welcome. He will have to put up with the ageing finery of Windsor Castle, his hotel for the two-day visit from Tuesday while the UAE's political prisoners languish in stifling cells at the mercy of brutal guards.
Britain does good business with the UAE. In 2009 both countries set up a joint economic committee with the target of expanding trade by 60% by 2015.
The UAE has already become the UK's 13h largest destination for goods exports, worth around £5.1bn ($7.9bn, €6bn) in this trade alone. This has grown in recent years from £3.2bn in 2009. It is on UK Trade and Investment's High Growth Markets list, a number of countries highlighted to British firms as offering lucrative trading opportunities.
Key sectors for the UK in the UAE, according to UKTI, are infrastructure, energy, defence and security, education and training, financial and professional services, and creative and media.
In 2012, strategic export control data shows that the UK issued licences for £1.2bn of controlled goods to the UAE, including arms. Listed among the deadly exports were assault rifles, bomb equipment, sniper rifles, and drone aircraft.
The UAE's main industry is energy, particularly the exporting of oil and gas. Two British companies - Shell and BP - played a significant role in the development of the UAE energy sector from the 1930s onwards. Both countries still collaborate today, though the relationship dynamic has shifted out of Blighty's favour.
DP World, a Dubai firm which owns P&O Ferries, is ploughing $2.2bn (£1.4bn, €1.7bn) into building London Gateway, an enormous new deep-sea container port on the River Thames at Thurrock. It will add another 3.5 million cargo units to the UK's existing port capacity.
The capital's biggest convention facility, the Excel centre, is also UAE-owned, having been bought by the Abu Dhabi National Exhibition Company. A 15% stake in Gatwick is held by the Abu Dhabi Investment Authority, while Dubai Investment Capital owns hotel group Travelodge.
Cambridge and Oxford
The UAE London embassy website boasts of the ties between the two countries, from banks such as HSBC and RBS operating in the Middle East state, to educational ties with prestigious universities such as LSE, Cambridge, and Oxford.
Both the UK and UAE are heavily invested in one another and it looks as though this business relationship will flourish further, even if it means a hushed Britain on human rights issues.
"We would like the Emirati investors to take advantage of the opportunities in London," London's Conservative mayor Boris Johnson has said.
On a recent trade mission to the Gulf, Johnson said his focus was on business and investment. When asked if he would be pressing Gulf states on their dismal human rights records, London's mayor said he did not do "megaphone diplomacy".
Johnson's message does not need a megaphone to be heard loudly and clearly by those suffering in the Gulf. Business is business, and that's what matters.
UAE and human rights
Behind the deals, diplomatic grins and sincere handshakes between state officials, there is an ugly truth about the UK's relationship with the UAE.
As contracts are signed, and the president is greeted with fanfare, silly hats and a marching military band by the British head of state, citizens of the UK are being tortured in Dubai prisons.
Three British men, tourists in Dubai, were thrown in jail in July 2012 on allegations of drug offences. Suneet Jeerh, Grant Cameron and Karl Williams were subsequently found guilty of possessing synthetic cannabis, known as Spice, and sentenced to four years in prison.
The claim they were tortured while held by Dubai police, and suffered beatings and electric shocks at the hands of prison guards. They also say they have not been treated fairly by the justice system - an allegation that Amnesty International and Reprieve agree with.
Cameron is likely to bring up the case in his meeting with the UAE president at Downing Street and Foreign Office ministers insisted they were talking to the UAE authorities about what happened to the men.
Is this enough? There is solid evidence that Britons - not to mention other non-Britons - have been tortured in the UAE. Cameron raising the issue in a secretive meeting is, at best, a quiet fuss that spares the blushes of a head of state, who is overseeing torture in his country.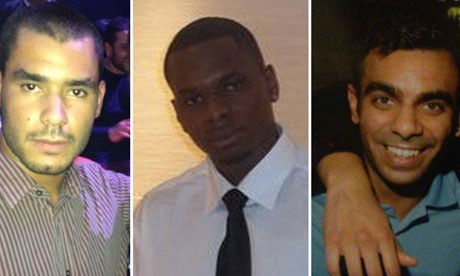 Mealy-mouthed call
It will leave many wanting more from Cameron, one of the leaders of the supposedly free and human rights-loving world. So far he has expressed "concern" in a mealy-mouthed call for a "full, impartial and independent investigation into the allegations".
Human Rights Watch listed concerns in its annual report for 2013 on the UAE.
Authorities detained 61 human rights and civil society activists, including two leading lawyers, for having ties to Al Isah, a Muslim Brotherhood-linked group. If successfully prosecuted, they face years in prison for their political activism.
There have been a number of other arrests and deportations as the UAE cracks down on free expression. In February it passed a law hindering free expression on the internet. It encompasses a number of offences "from criticism of the UAE's rulers to calling for unlicensed demonstrations", said HRW, that can carry prison sentences.
A mass trial of 94 people is taking place, including 61 arrested in 2012, and eight of these are being tried in absentia. All are on trumped-up charges, accused of being part of a group that is threatening to overthrow the UAE's political system.
Women's rights in the UAE are also of significant concern to human rights groups. Strict Islam-centric laws make women unequal citizens.
"The law in particular discriminates against women by granting men privileged status in matters of divorce, inheritance, and child custody," said the HRW report.
"Emirati women can obtain a divorce through khul'a (a no-fault divorce) thereby losing their financial rights. They may only ask for a divorce in exceptional circumstances. Females can only inherit one-third of assets while men are entitled to inherit two-thirds," said the HRW report.
Women are not allowed to marry non-Muslims, though the men are. It is the same gender imbalance with polygamous marriages.
"The UAE has become a country where people who speak their mind get locked up, and those who get locked up face torture," said Sarah Leah Whitson, Middle East director at HRW.
"Given that British citizens are now among those being abused, the British prime minister needs to show some backbone and break his silence on the UAE's increasingly poor human rights record."
---
Follow @shanecroucher