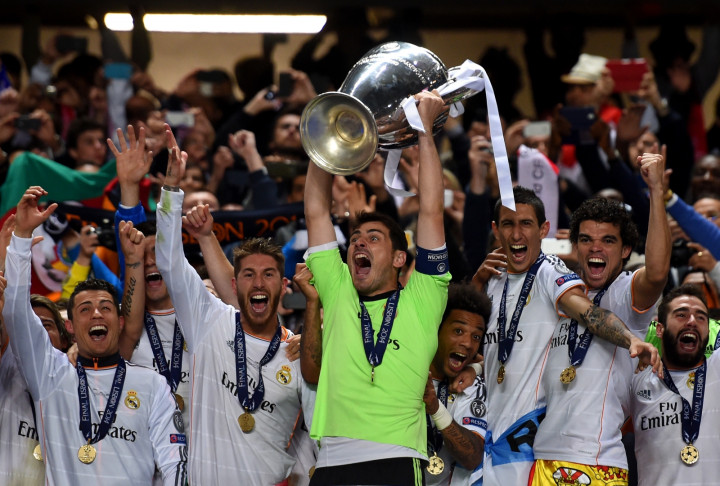 Where to Watch Live
The draw in Nyon starts at 4:30pm GMT, with Sky Sports News HQ and Uefa.com providing live coverage in the UK. Click here to watch the draw live online, via UEFA's official website. Follow the draw LIVE with IBTimes UK right here.
Overview
Following the conclusion of the preliminary rounds, the 2014/15 Champions League begins in the earnest with the group stage draw for the competition from Uefa's base in Nyon.
The Premier League is represented by four clubs including Arsenal, who bypassed Besiktas in the play-off round, last year's semi-finals Chelsea, Liverpool – who return to the competition after a five-year absence – and English champions Manchester City.
As with previous years the 32 qualified teams, which include holders and 10-time winners Real Madrid, have been inserted into four pots based on their Uefa coefficient, which is calculated by their success during the last five years of European competition, with a team from each placed in one of the eight groups.
No two teams from the same country or pot can be drawn against each other and the draw is complete when all 32 teams are drawn into the eight groups, lettered A-H.
Arsenal & Chelsea
Best scenario: FC Basel, Sporting Lisbon, Malmo
Worst Scenario: Paris Saint Germain, Bayer Leverkusen, AS Roma
Liverpool
Best scenario: FC Porto, FC Basel, Malmo
Worst Scenario: Real Madrid, Paris Saint Germain, AS Roma
Manchester City
Best scenario: FC Porto, Olympiakos, Malmo
Worst Scenario: Real Madrid, Ajax, AS Monaco
Champions League 2014/15 Group Stage draw pots

Pot One: Real Madrid, Barcelona, Bayern Munich, Chelsea, Benfica, Atletico Madrid, Arsenal, FC Porto
Pot Two: Schalke, Borussia Dortmund, Juventus, Paris Saint-Germain, Shakhtar Donetsk, FC Basel, Zenit St Petersburg, Manchester City
Pot Three: Bayer Leverkusen, Olympiakos, CSKA Moscow, Ajax, Liverpool, Sporting Lisbon, Galatasaray, Athleic Bilbao
Pot Four: Anderlecht, AS Roma, Ludogorets, APOEL, BATE Borisov, Maribor, AS Monaco, Malmo