Celtic v Inter, Tottenham v Fiorentina, Liverpool v Besiktas, Young Boys v Everton
Defending champions Sevilla to host PSV Eindhoven in first leg
Ties to take place on 19 and 26 February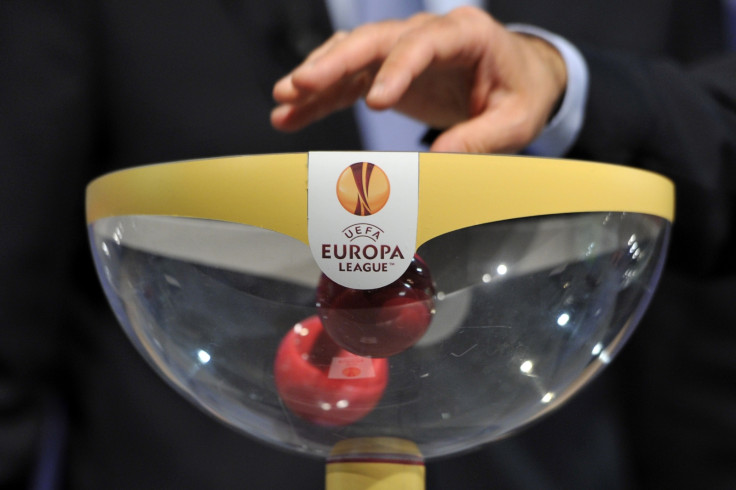 12:34: So that's it! Celtic take on Inter Milan in a repeat of the Lisbon Lions' 1967 European Cup triumph in their round of 32 clash. The Nerazzurri travel to Parkhead for the first leg on 19 February.
Elsewhere, Liverpool have drawn Besiktas, a tie that will bring Demba Ba back to Anfield for the first time since ending the Reds' title bid with that infamous goal in front of the Kop last April. Liverpool have history strongly on their side in this clash, however; the last time these two met the Turkish giants suffered an 8-0 hammering in 2007, marked by a hat-trick from the notoriously prolific Yossi Benayoun.
Tottenham have avoided a meeting with former coach Andre Villas-Boas but will face a stern examination from Fiorentina. Everton, the only seeded side from England and Scotland, will travel to Swiss outfit Young Boys.
Elsewhere, defending champions Sevilla have been fed into an intriguing battle with Borussia Monchengladbach, with the two sides having won this competition and its previous incarnations on five occasions. Andre Villas-Boas and Zenit take on PSV Eindhoven.
EUROPA LEAGUE ROUND OF 32 DRAW:
Young Boys v EVERTON
Torino v Athletic Bilbao
Sevilla v Borussia Monchengladbach
Wolfsburg v Sporting Lisbon
Ajax v Legia Warsaw
AaB v Club Brugge
Anderlecht v Dinamo Moscow
Dnipro v Olympiakos
Trabzonspor v Napoli
Guingamp v Dynamo Kiev
Villarreal v Red Bull Salzburg
Roma v Feyenoord
PSV Eindhoven v Zenit St Petersburg
LIVERPOOL v Besitkas
TOTTENHAM v Fiorentina
CELTIC v Inter
Last 32 ties to be played on 19 and 26 February
12:10: A quick reminder, the fixtures for the last 32 of the Europa League are to be played on 19 and 26 February (kick off times to be confirmed later this afternoon).
12:06: Jerzy Dudek is out to assist in the draw.
12:01: And we are ready to! Almost, anyway...
11:53: In previous years today's draw would have been immediately followed by the draw for the last 16 of the competition. Uefa have changed their plans for 2014/15 however and will wait until the last 32 fixtures are played in February before taking the next step.
11:48: There are seven domestic league champions proudly taking a place in this afternoon's draw in Legia Warsaw (Poland),Red Bull Salzburg (Austria), Celtic (Scotland), Olympiakos (Greece), Aalborg (Denmark), Anderlecht (Belgium) and Ajax (Netherlands).
11:41: The two pots leave us with a deluge of intriguing possibilities for the last 32, the most notable being Tottenham Hotspur v Zenit St Petersburg. Andre Villas-Boas was booted out of White Hart Lane almost a year to this day and if the football gods have any sense of humour, they will surely mark that anniversary with a draw paving the way for his return to north London next year.
Liverpool's week darkened on Sunday following their 3-0 loss to Manchester United but it could yet get worse for Brendan Rodgers' side should the draw look unfavourably upon them. Napoli, Inter, Zenit and Sporting Lisbon are among the trickier ties facing them.
11:38: The format for the draw is thankfully fairly simple. The competition's group winners have been joined by the four third-placed Champions League sides with the best records in the seeded pot, guaranteeing them a home tie in the second leg of the match next year. There's no room in that pot for group runners up Celtic and Tottenham, however, who are joined by Liverpool after their miserable campaign.
At this stage, no teams from the same group or same country can be drawn together but from the round of 16 onwards, everyone is fair game.
Here's a list of the teams in each pot.
Unseeded:
Villarreal, Torino, Tottenham, Celtic, PSV, Dnipro, Sevilla, Wolfsburg, Young Boys, AaB, Guingamp, Trabzonspor, Anderlecht, Ajax, Liverpool, Roma
Seeded:
Borussia Monchengladbach, Clue Brugge, Besiktas, Red Bull Salzburg, Dinamo Moscow, Inter, Feyenoord, Everton, Napoli, Dinamo Kiev, Fiorentina, Legia Warsaw, Olympiakos, Sporting, Athletic Bilbao, Zenit St Petersburg
11:32: In case you've missed the small matter of the last 16 draw for the Champions League this morning, check out our live coverage to find out how Arsenal, Manchester City and Chelsea got on.
11:30: With a place in next season's Champions League on offer for the winner of the Europa League, the clubs waiting to learn their fate in this afternoon's draw are no longer here to merely make up the numbers. Liverpool have joined Tottenham Hotspur, Everton and Celtic in the draw which will take place at 12:00 (GMT).