Tottenham Hotspur midfielder Dele Alli could be slapped with a lengthy suspension from European competition with Uefa's disciplinary body set to review the challenge which led to the first red card of his career against Gent. The 20-year-old was dismissed after 39 minutes of the 2-2 draw at Wembley, which saw them crash out of continental competition for a second time this season.
The challenge on Brecht Dejaegere was defended by manager Mauricio Pochettino, but former Spurs boss Harry Redknapp claimed the tackle could have ended the career of the Gent midfielder. Alli is already assured of missing the club's next outing in Uefa competition which could come next season, but that ban could yet be extended.
European football's governing body will assess the incident and could increase the suspension should they deem the incident merits an enhanced penalty. Uefa often acts on events which include straight red cards and have extended the punishments of several players in previous seasons.
The likes of Zlatan Ibrahimovic, John Terry and Daniele de Rossi have all seen initial one-match bans for red cards upgraded. In 2007, Augustin Binya, while playing for Benfica, was dismissed for a similar tackle to that of Alli on Celtic's Scott Brown and was banned for six games following an investigation. Should Tottenham qualify directly for next season's Champions League or Europa League, an identical punishment would see Alli banned for the whole group campaign.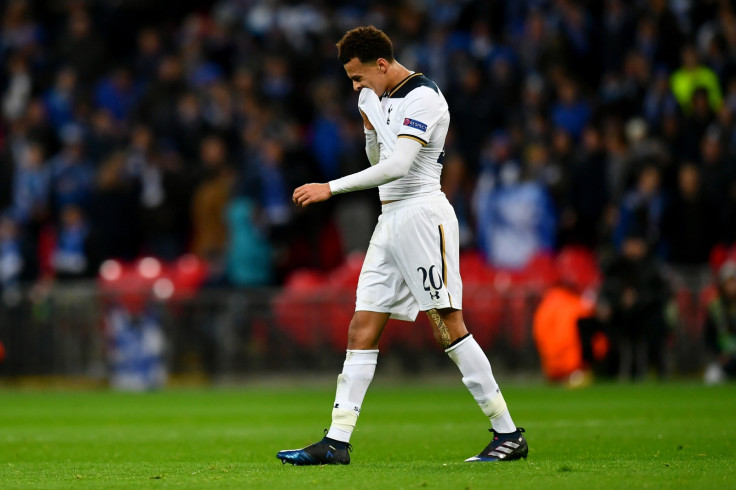 One factor that may assist Alli in any investigation is his previous disciplinary record in European matches. The dismissal against Gent was the first red of his career, while last term he picked up two yellow cards in both legs of the last 32 victory over Fiorentina – leading to an automatic one-game ban. In the second leg he was reprimanded for kicking Nenad Tomovic but escaped additional punishment.
But should Uefa take into account Alli's compassion following the episode, which saw him visit Dejaegere after the game to apologise, then any ban could be cut. "At half-time I felt pain in my knee and also someone showed me the image and then my heart was thumping for a few seconds," Dejaegere said, according to The Times.
"He just said sorry to me and that's nice from him, he's a professional. We're OK, it's football. I saw the images and it could have been much worse. I don't think he meant it because he came to apologise himself. In the same way he could be injured also another day. It's part of the job. I felt it was a really hard tackle but then in the moment, you turn the button and try to focus on the game. My leg now is a bit more painful because my muscles are stiff but maybe the feeling of going through makes it better."