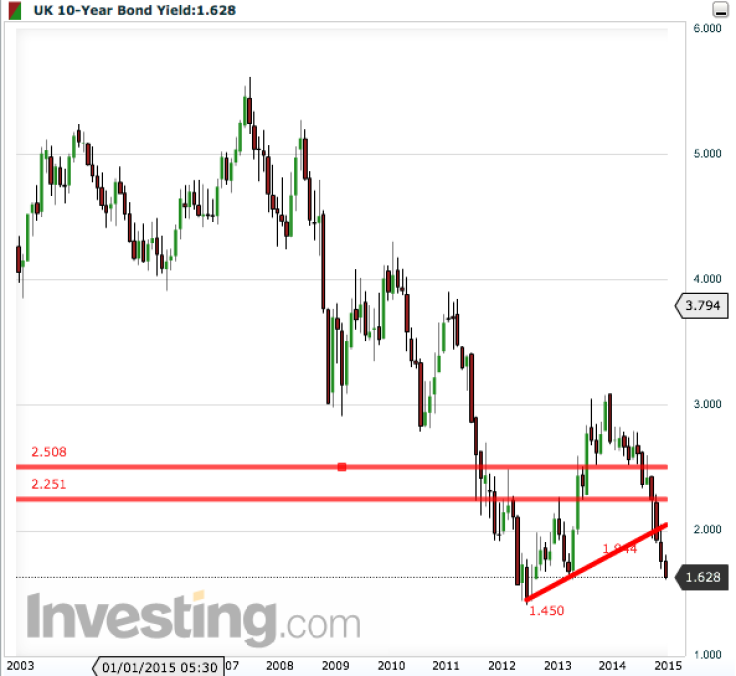 The yield on the 10-year UK gilt yield was set at 1.622% at the auction on 6 January, down more than 20% from the yield at the 13 November auction, sending the market rate down to a 19-month low.
The November yield of the 2¾% Treasury Gilt 2024 was 2.205%, slightly below the 21 October result of 2.149%.
The accepted average price has increased to 110.049 by Tuesday's auction from 104.785 and 105.317 in November and October respectively.
The UK gilt yields have been falling steadily over the past several months and it ended 2014 around 42% down in the secondary market.
On a monthly closing basis, the market rate has fallen below the 2% mark in November itself and has hit a 19-month low of 1.6110 on Tuesday.
The 10-year gilt yield is testing a crucial support of 1.610 which is only a touch away. A break of that will take the yield to its lowest since August 2012.
That the all-time low of 1.408 hit in July 2012 will then not be far away adds to the strength of bullishness of Gilts.
Technically, the 10-year yield has risks more to the downside and 1.5% and 1.4% seem to be next important levels to watch.
On the higher side, only a bounce back above the 2% will bring back the uptrend since mid-2012. Such a move will first target 2.25% and then 2.5% before retesting the last year highs above 3%.