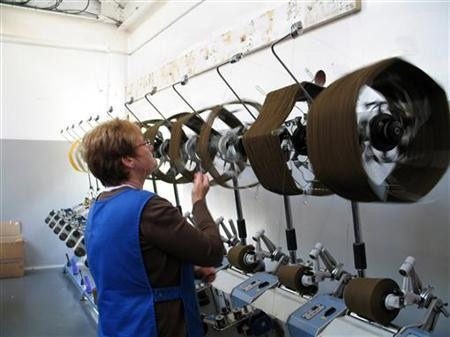 UK wages have slumped to a similar level to a decade ago, according to the Office for National Statistics, and there is a warning that this decline in earnings could be permanent.
Since 2009, in the aftermath of the global financial crisis from which the UK economy is yet to recover, stagnant wage growth has been outpaced by price inflation, hitting families' finances as they struggled to make ends meet.
"The decline in real wages has short-term implications for the economy and economic indicators. It is possible that it also marks a permanent change in long-term wage growth trends, but it is too early to be sure about this," said the ONS report on changing earnings from 2002 to 2012.
In 2009, median earnings per hour in real terms peaked at £12.25. In 2012, this number had fallen to £11.21, around the same as it was in 2003.
"This may be because of pay freezes for people who remain in the same job or it may reflect changes in the composition of jobs that people do, with some high-paid jobs being cut as the economy adjusts following the shock of 2008-09 and more low-paid jobs being created," said the ONS.
"The 'average' earnings outcome for UK employees as a whole is probably the result of a combination of both pay freezes and economic restructuring."
All the while, inflation soared, reaching a peak of 5.2 percent in September 2011. It has since fallen steadily to 2.7 percent, where it has stayed for four consecutive months, up to an including the most recent reading for January 2013.
This is still ahead of wage growth, with regular earnings rising by just 1.4 percent in the three months to November.
"In the short term, businesses are the main beneficiary of falling real wages. Lower labour costs may help them to survive an economic downturn and to avoid job cuts," said the ONS.
"In the longer term, they may influence firms' investment decisions, for instance by encouraging them to use more labour and less machinery. If this kind of 'factor substitution' is sustained, it could contribute to a reduction in productivity, with the risk that firms may become less competitive."
The ONS also warned that falling real wages means dampened consumer activity, which will hit domestic demand and hurt UK-facing businesses.
These latest official figures come on the same day as a significant report into "squeezed Britain" was published by the think tank Resolution Foundation.
Its study found that it could be a whole decade before low-to-middle income families' living standards return to pre-recession levels.
There are 9.8m adults and 5m children who live in low-to-middle income households, 79 percent of which are working with a net income of £21,000. Over half have no savings, with 43 percent saying they could not even afford to save £10 a month, and over two thirds do not have a private pension.
The report claims that if the typical earnings for families on low-to-middle incomes rise by an average of 1.1 percent a year above inflation, which it says is realistic by historical standards, then their earnings would recover to £22,000 a year by 2023.
This is the equivalent of 2008 levels.
However, without the prolonged downturn since 2008 - which has seen the UK tumble into a double-dip recession and growth flatline - their typical earnings would be around £27,500.
Reaching that level over the next ten years needs annual real earnings growth of 3.3 percent, said the report, which "appears unattainable based on current projections and past experience".
"There is a long road to travel just to get back to where living standards stood before the crisis - and the prospects of actually recovering the ground lost over recent years appear vanishingly thin," said Matthew Whittaker, senior economist at the Resolution Foundation and author of the report.
---
Follow @shanecroucher