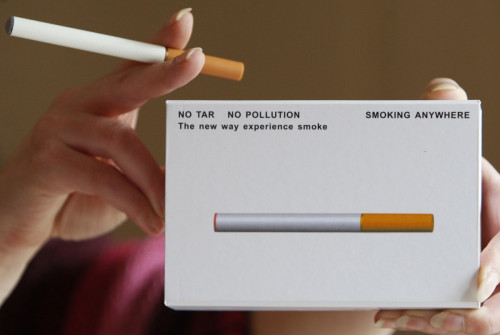 Under-18s should be banned from buying electronic cigarettes, the UK government will announce this week.
There are currently no age restrictions in the UK on buying the devices, and they are increasingly popular with teenagers who, it is claimed, use them before moving on to real cigarettes.
Secondary schools across the UK have already banned the devices, after children were caught using them on school premises.
Designed as an aid for those wanting to give up smoking, electronic cigarettes have proved highly successful, with 1.3 million people in the UK believed to use them.
The battery-powered devices simulate smoke by vaporising a nicotine-infused liquid.
However, medical experts remain divided about their impact on health, with virtually no long-term tests having been conducted.
England's chief medical officer Professor Dame Sally Davies said: "We do not yet know the harm that e-cigarettes can cause to adults, let alone to children, but we do know they are not risk free.
"E-cigarettes can produce toxic chemicals and the amount of nicotine and other chemical constituents and contaminants, including vaporised flavourings, varies between products meaning they could be extremely damaging to young people's health."
Electronic cigarettes have already been banned for under 18s in countries including Colombia, Panama and Uruguay.
The law will also ban adults from knowingly buying real tobacco products for a minor.
Two in five (41%) 15-year-olds who currently smoke say they usually buy their cigarettes from other people rather than from a shop.
Nearly all (95%) 11- to 15-year-olds who smoke have managed to get someone else to buy cigarettes for them in a shop at least once in the past year.
Approximately 100,000 people in the UK die prematurely each year as a result of smoking.