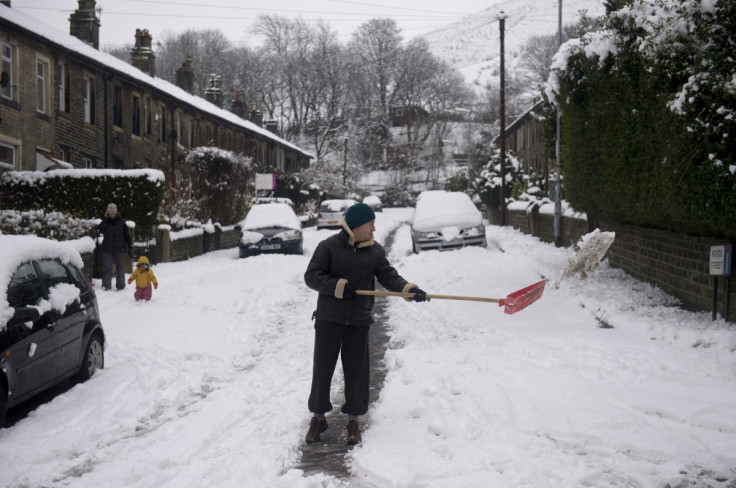 Communities across Britain are bracing for plummeting temperatures this weekend, with forecasters predicting snow and sleet in some parts of the country. The Met Office says 2-4cm of snow could fall at altitudes above 400m (1300ft) through the rest of the week, with central and southern Britain likely to be hit.
Light snow began falling in Cumbria on 11 February, while sub-zero temperatures have been reported in Cardiff. Police have warned motorists to take precautions while driving and allow extra time for their journeys, especially on roads such as the M62 connecting Liverpool and Hull.
"Thursday will be more misty and foggy across central and southern England and Wales," Met Office spokeswoman Lindsay Mears was quoted as saying by the Guardian newspaper. "There's a more uncertain picture on Friday and Saturday. We may see some snowfall, as opposed to wintry showers, as far south as Derby. Rain is moving in across the country and the temperature is dropping, as the arctic air comes over bringing with it some colder weather."
Wintry weather
Leon Brown, meteorologist at the Weather Channel, told Aol Travel that up to 8cm of snow could fall in parts of the country on 13 February. "This weekend becomes more complex with a potential clash between a cold easterly flow from Scandinavia and milder Atlantic air to the southwest," he said.
"An area of low pressure is likely to develop and move across southern Britain with a snow risk across Wales and the Midlands through the day and evening. As much as 2 to 8cm is possible, especially over hills. Sunday will be rather cold in a freshening north to north-easterly wind, with sleet and snow showers likely in the east."
The wintry weather comes days after Storm Imogen brought winds of nearly 100mph (160kph) and heavy rain to southwest England and Wales, cutting off power to thousands of homes and disrupting trains and ferries.