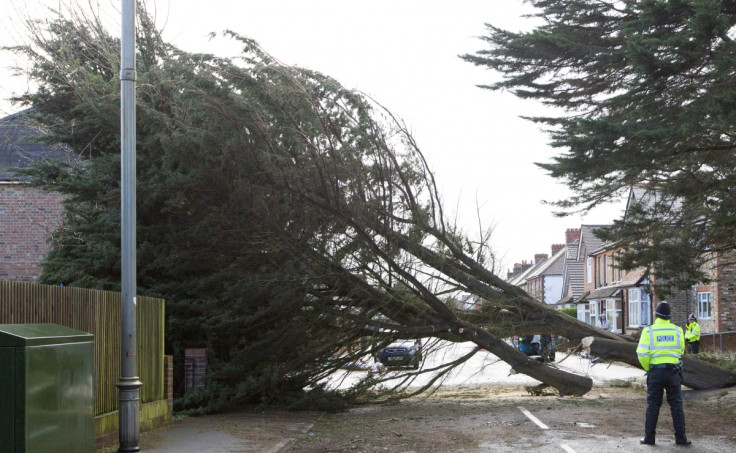 Large parts of Britain are set to be battered by 80mph winds and heavy rain as Storm Imogen sweeps in from the English Channel on Sunday, 7 February, into Monday morning – just in time for the morning commute. The Met Office has warned people to expect widespread travel disruption from yet-another storm – the ninth of the winter so far but the first to really affect the south-east of England.
It has issued yellow "be aware" alerts stretching from southern Wales to the Thames Estuary, as well as amber "be prepared" warnings for the south-west.
Storm Imogen could bring down trees and power lines and cause havoc with the Monday morning commute. High winds and thundery downpours are expected throughout the day with the potential to cause problems into the evening rush hour.
Gusts of between 60mph-70mph are widely expected, while winds of 80mph will hit the south-west, particularly the Cornish coast. With high winds expected to carry thundery downpours throughout Monday, the Met Office said there would be enough rain to cause surface flooding and spray on roads.
"Some very large waves are also likely to affect many coasts, in particular north coasts of Cornwall and Devon," it said. It also warned commuters and households to be "prepared for disruption to travel as well as possible damage to trees and structures and interruption of power supplies".
Imogen is the ninth named winter storm and comes just days after Storm Henry, which brought winds of up to 90mph in places, causing schools to shut and disruption to transport, mainly in Scotland. Henry itself came shortly after Storm Gertrude, which cut electricity to thousands of homes across the UK and damaged some buildings.
The Met Office decided to start naming storms in 2015, in an effort to increase awareness of severe weather and boost safety.