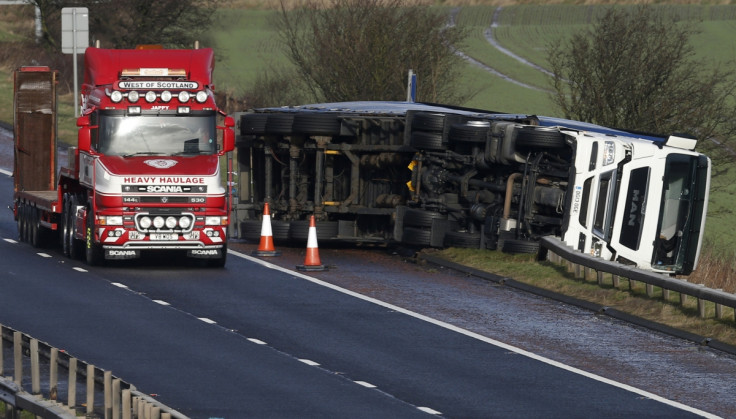 The UK's eighth storm of the winter season has officially been named and will hit Britain on Monday, the Met Office has announced. Storm Henry follows hot on the heels of Storm Gertrude, which struck on Friday evening, cutting electricity to thousands of homes and damaging buildings across the British Isles.
Another deep low pressure system has now formed in the Atlantic and is approaching the UK. It should pass to the north of Scotland, bringing strong winds across much of the UK, causing severe gales and heavy rain especially in the north-west, and likely disrupting power supplies and transport.
The Met Office has issued an amber severe weather warning for Storm Henry, lasting until Tuesday morning – meaning people should be prepared to have their lives disrupted by wind, rain and even snow. It is also warning that more deep atmospheric depressions could yet form in the Atlantic.
Dan Suri, a meteorologist at the Met Office, warned that there are "several periods of severe weather forecast to affect the UK over the coming days".
There will at least be a few moments of reprieve, as the Met Office predicts "a quieter spell of weather" on Saturday night and into Sunday, with milder and wetter weather spreading in from the south west.
The Met Office decided to start naming storms in concert with the Irish meteorological service Met Éireann in 2015, in an effort to increase awareness of severe weather and boost safety.
Storms are given names selected from a pool submitted by the public, running from A-W, missing out Q, U, X, Y and Z, in line with US hurricane naming convention. The first named storm was Abigail, which hit Britain on 12 November last year. Storms which have already been named in the US as hurricanes, and have gone on to cross the Atlantic retain their American names to avoid conclusions.
Meteorologist Will Lang said: "With several periods of severe weather forecast to affect the UK over the coming days, it's a good idea to keep a close eye on the forecast and the National Severe Weather Warnings as the details of what areas are to be affected and when, are likely to change."