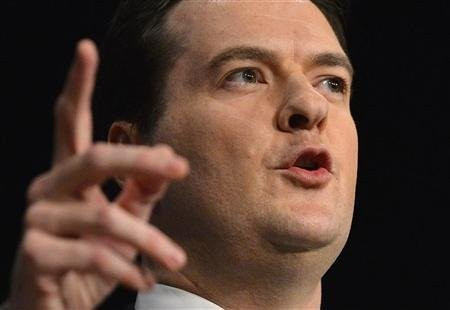 Chancellor George Osborne will slash departmental spending by another £2.5bn in his 2013 Budget and use the money to fund infrastructure investment to help boost the economy, though the Trades Union Congress says would create a paltry 0.06 percent of growth.
The cuts will be made over the coming two years and will come by shaving a percent off the budgets of unprotected departmental spending. Health, education and foreign aid are all ringfenced from government austerity.
"It is also allowing the recycling in the short term of money into capital spending, which is an important part of the government's agenda," a Downing Street spokesman said.
The TUC, citing independent fiscal watchdog the Office for Budget Responsibility, said current spending has a fiscal multiplier of 0.6, compared to a multiplier of 1 for capital spending.
Osborne's proposed increase in capital spending boosts GDP by £2.5bn, while spending cuts reduce it by £1.5bn. Therefore the net increase of £1bn is equivalent to 0.06 per cent of GDP.
"With interest rates negative in real terms, the chancellor has the perfect opportunity to invest in Britain's future, rather than raiding departmental budgets to cover his failed economic strategy," said Frances O'Grady, TUC general secretary.
Osborne and the coalition government are coming under increasing pressure to revive the UK's dead economy, which may be in the middle of an unprecedented triple-dip recession, as it muddles through a period of damp domestic and global demand.
Crisis in the eurozone and global economic difficulties elsewhere, such as the recent fiscal cliff threat from the US economy, continue to weigh heavily on British output and sentiment.
Britain's finances were stripped of their AAA status at Mooody's Investor Services, one of the world's three main credit rating agencies.
The UK was downgraded as a result of the economy's worsening outlook, a mounting public debt pile as output falls below expectations and tax receipts tumble, and the growing political opposition to austerity as the public becomes weary of cuts and low growth.
However, Osborne has remained committed to austerity, his favoured deficit-reduction route, and has said unequivocally that more spending funded by borrowing is not an option as it would be to repeat the same fiscal mistakes of the past.
Osborne will outline the infrastructure investments to be made when he delivers his 2013 Budget on March 20.
Labour has called for a programme of housebuilding, funded by the £2.3bn raised from the 4G mobile spectrum auction, to bring the economy out of the doldrums.
"What Britain needs next week is not more tinkering of the same old polices rebranded, repacked and relaunched," wrote Ed Balls, Labour's shadow chancellor, in a Guardian article.
"Instead, we need a bold and radical budget to kickstart our stagnant economy with housebuilding at its heart."
The Confederation of British Industry (CBI), Britain's biggest business lobbyist, has echoed the call for housing to play a central role in the UK's economic recovery.
"Businesses don't need a swathe of new initiatives or radical policy shifts, but we do want to see a renewed sense of optimism, dynamism and delivery," said John Cridland, CBI Director-General.
"We think a budget with housing at its heart will help deliver confidence to businesses and consumers."
The CBI said 50,000 new affordable homes should be built as well as incentives put in place for the refurbishment of empty houses.
Demand should be stimulated by extending the NewBuy scheme, which helps bring down sky-high mortgage costs for first-time buyers.
---
Follow @shanecroucher