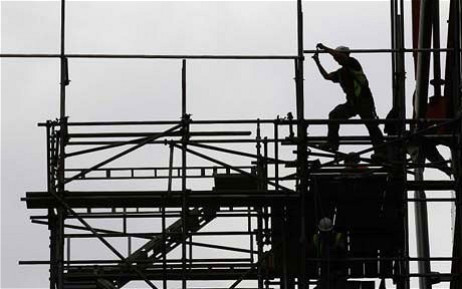 In something of an ironic twist, the sector that built Britain's economy - literally - is now helping to demolish it, but a new campaign is striving to put construction at the heart of the government's recovery agenda by using the industry as the foundation on which to build sustainable growth.
A slowdown in the construction sector was blamed for dragging the country back into its second recession in four years, which became the longest double-dip contraction since the Second World War.
Quarter-by-quarter from the closing three months of 2011, the construction industry saw its output decline. Even when the country finally returned to growth in the three months to September, construction firms yet again saw their sector decline.
"I think you can't get away from one of the core drivers being the decline in public sector investment. People tend to think of construction as a private sector enterprise, but of course a third of all our turnover has always been from the public sector," Judy Lowe, deputy chairman of CITB-ConstructionSkills, told IBTimes UK in an interview.
"When you see declines like 30 percent in public sector housing and 24 percent public sector non-housing in a year, that's going to have an impact."
Lowe has just launched a campaign with CITB called Construction4Growth to persuade ministers that there are many economic virtues in the crumbling construction sector.
Since the last quarter of 2011, construction sector output has plunged by 10.9 percent, according to figures from the Office for National Statistics (ONS).
The industry accounts for 6.7 percent of the economy and is worth £89.5bn a year, employing 2.04m people.
Billions have been lopped off of the government's spending tab since the coalition took control in May 2010, when the sledgehammer of public austerity was taken to the Treasury's walls.
Local councils have seen their budgets slashed by as much as a quarter.
Because of the sluggish economy the government has had to borrow more money to maintain its spending despite the dwindling outgoings - meaning more austerity is still to come.
CITB consults 700 organisations that use or represent construction firms, such as local authorities and contractor associations, twice a year on their views on future output and jobs.
Those consulted are then asked again to confirm the views they originally gave, or to alter them, before an annual report is produced.
If this is anything to go by, the outlook is not good for the industry.
"We know that by 2016 construction output is still going to be 5.5 percent below its 2007 level and construction employment is going to be 5.5 percent below its 2008 level," said Lowe, who has been a director of Bovis Lend Lease and two other construction companies.
Construction4Growth
In September, CITB launched its Construction4Growth campaign because, as Lowe puts it, the industry is "a fantastic driver of the economy because it works in the short term, the medium term, and the long term."
Short term benefits are from housing repairs and maintenance.
"We know there are 26m homes that aren't up to energy efficiency standards. Ditto there are £4bn of shovel-ready rail and road projects that you could get going tomorrow," she said.
"Because that kind of short-term remedial work employs 3,200 people per £100m spend, you can see the way it becomes the multiplier effect, driving growth.
"You've also got the benefit of what you're doing for people's homes and lives."
For the medium term there are longer and bigger building projects, such as the Gherkin, Shard, and Walkie Talkie, which is under construction by Fenchurch Street in London.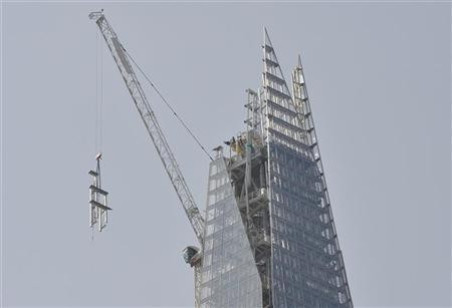 Then in the long-term are major infrastructure projects, such as nuclear plants and Crossrail.
CITB's role will be to help provide a new generation of skilled construction workers, as well as up-skilling those who have already worked in the industry, to meet the needs of the market.
So far it has received plenty of industry support - including from established firms such as JCB and Henry Boot, as well as industry groups such as the National Federation of Builders.
As it stands, 1,340 companies have signed up
The campaign has three core elements: investment for growth, skills for growth, and green for growth.
Investment can be covered by government initiatives, through either direct fiscal intervention or stimulating private spending.
Skills can be covered by CITB, says Lowe, which trains 40,000 people a year in construction-related skills.
Green is also essential, she said, because the environment imperatives facing the government over its commitments to meet G8 emissions targets and make Britain a cleaner, more energy efficient place to live.
"We know, as responsible individuals, that unless you address the built environment, you're not going to do anything about the government's 2020 or 2050 carbon targets," said Lowe, adding that 47 percent of emissions come from the built environment.
Government efforts for construction
Since the first signs that the construction industry was in free-fall, the government has announced a number of schemes and policy pushes aimed at rebuilding the industry.
There is a £9bn investment in upgrading the country's ageing rail network; a new house-building push will see 170,000 affordable homes constructed by 2015; the UK Guarantees Scheme will underwrite up to £40bn of major infrastructure projects that are struggling to find finance; the Growth and Infrastructure Bill will try to streamline planning laws to stimulate activity; and there are plans for a new generation of nuclear power plants to be built across the country.
"We obviously welcome the fact that the government seems to be waking up to the fact that financial services isn't the only game in town, because in fact construction is as big a part, if not bigger, than financial services within GDP and we employ four times as many people as the financial services industry," said Lowe.
"So from any government's point of view, if you want to get the economy moving and moving fast then construction is the answer."
Lowe said CITB has had "good political traction" and attended all three of the major party conferences.
At the Conservatives' conference in Birmingham a number of apprentices built a wall that was signed by MPs pledging their support to the Construction4Growth campaign.
According to Lowe, even housing minister Mark Prisk scribbled his name on the wall.
As well as attend the annual conferences, CITB holds cross-party meetings to discuss construction sector, issues and solutions to problems.
Plans and recommendations stemming from these consultations, which will be handed to the government, are being drafted into a report which will be issued by the end of the year.
Lowe said that they have a meeting with Chancellor George Osborne at Number 11 early next year.
"I've been in the construction industry since 1996. I'm absolutely passionate about it. It is a fantastic industry to be part of," she said.
"I know a lot of industries say they are a route to growth. To be honest, for all kinds of reasons, construction is the one that is going to get you there.
"When you can see the potential, of course you get excited. It's just a fantastic way of boosting the economy, and giving people jobs and homes.
"It's better than quantitative easing, except I shouldn't say that."
---
Follow @shanecroucher