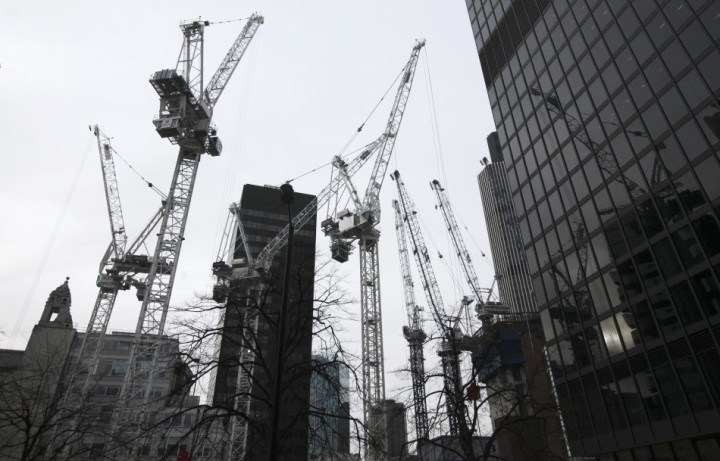 The UK construction sector entered a renewed downturn in August according to private industry data, as new orders collapsed in their fastest drop for almost three and a half years.
A sharp contraction in the construction sector dragged Britain back into its second recession in four years at the end of 2011, a decline that has continued for three consecutive quarters.
This latest data will intensify beleaguered Chancellor George Osborne's headache as he watches the UK economy crumble around him, with ongoing crisis in the eurozone and slowing global demand looming ominously overhead.
"August data reaffirms that UK construction firms are suffering a prolonged downturn in new work and there is little evidence to suggest an imminent rebound in output levels," said Tim Moore, senior economist at Markit, in the latest purchasing managers index (PMI) report.
Construction sector PMI dropped to 49 in August, down from July's 50.9. Anything over the neutral 50 figure represents growth, while under signifies a contraction.
Confidence among construction firms weakened in the month, with the degree of positive outlook plunging to its lowest reading since October 2011.
Government ministers are facing calls to support the sector, as well as drag Britain out of its economic slump, by investing heavily in infrastructure projects.
Recently Osborne announced a £9bn fiscal push for the country's rail network, which sees lines and stations upgraded across the country.
It signalled that the government was relaxing its attitude to austerity, which it has stuck stubbornly to as it tries to bring down the budget deficit left behind by the previous Labour government.
Osborne argues that public cuts must be the route to bringing down the deficit as Britain cannot afford to add to its vast debt pile, which has now reached 65.7 percent of GDP, the highest level since 1969.
Business lobbyist the British Chambers of Commerce (BCC) urged the government in a report to take advantage of the country's AAA status among credit rating agencies to temporarily increase its borrowing from the markets at a cheap rate and invest in new infrastructure projects.
"We need an economic action programme so that Britain can excel, and make its way in the world," said John Longworth, director general of the BCC.
"We have the talent and the energy, but we need the political will to focus relentlessly on economic growth. It's not that nothing else matters, it's that without it, nothing else is possible."