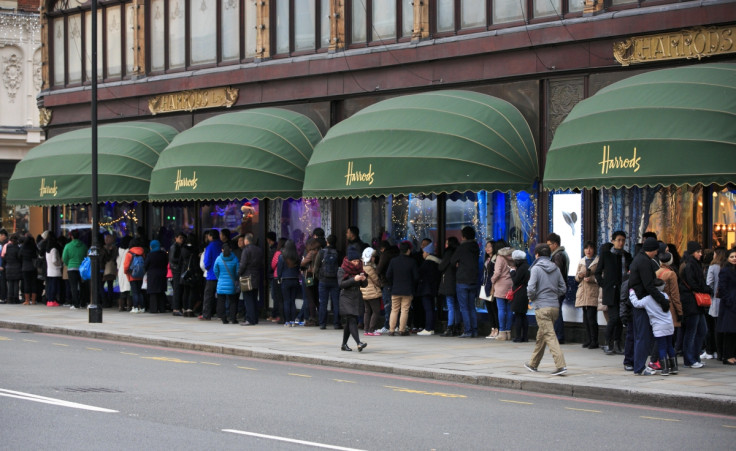 Consumer spending in the UK had its weakest quarter in nearly four years from April to June, according to a report.
Spending fell 0.3% compared to a year earlier during the quarter, the steepest fall recorded since the third quarter of 2013, Visa and IHS Markit said.
In June alone, spending was down 0.3% following a 0.9% decline in May.
The figures offer further evidence that rising prices and stagnant wage growth are squeezing consumers' pockets.
Visa said consumers were prioritising spending on essential goods over sectors such as household goods, recreation and culture.
Spending on food and drinks was up 1.9% in June, while expenditure on household goods slumped 3.4%.
Meanwhile, online spending grew by 2.9% during the month compared to a 6.8% increase in May, but face-to-face spending slid 2.4%.
"The recent heatwave and summer sales have failed to reverse the high street's fortunes, with face-to-face spend falling for the second consecutive month," said Kevin Jenkins, UK and Ireland managing director at Visa.
"On the other hand, e-commerce spend continued to grow, albeit at a slower rate compared to May."
Higher consumer spending was recorded in miscellaneous goods, which includes hairdressers and jewellery, at 5.7%, and hotels, restaurants and bars at 4.9%.
IHS Markit economist Annabel Fiddes said: "The marked deterioration in household expenditure trends since last year comes at a time when households are facing an increasingly challenging scenario of rising living costs and weaker wage growth.
"Consumer confidence has also been dampened by uncertainties linked to the outcome of the ongoing Brexit negotiations, the inconclusive general election result, as well as relatively lacklustre growth across the UK economy.
"The downbeat data may add to calls for the Bank of England to keep interest rates lower for longer, as weaker consumer spending is likely to weigh on economic growth in the months ahead."
Visa calculates its consumer spending index by adjusting credit and debit card transactions for a variety of factors to create a gauge of overall consumer spending, not just that on the cards.