Rex Tillerson says he 'misses' oil and gas industry while collecting top award
US Secretary of State tells World Petroleum Congress he thought he'd be in retirement when his time for bagging the prestigious Dewhurst Award arrived.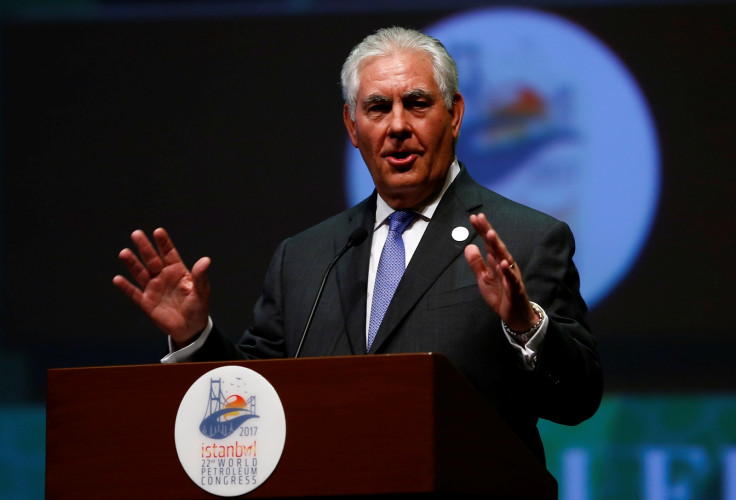 US Secretary of State Rex Tillerson says he misses the oil and gas industry following his appointment to political office by President Donald Trump last year.
Speaking at the 22<sup>nd World Petroleum Congress (WPC) in Istanbul, Turkey on Sunday (9 July), Tillerson – who was awarded the Congress' prestigious Dewhurst Award for his "outstanding contribution" to the industry – joked with the audience that while he aspired to bag the award one day; he firmly believed that time would come when he was well into retirement.
"Well before I took [political] office, when news arrived that I would be awarded the Dewhurst Award, I thought I'd spend leisurely time in Istanbul, enjoy this beautiful sunny city, perhaps go fishing before collecting it...Things didn't quite turn out this way."
Paying tribute to his former colleagues and workforce at oil and gas behemoth ExxonMobil, Tillerson added: "I accept this award on behalf of the hard working men and women of ExxonMobil. This award is for them – I am here because of what they've achieved."
Turning nostalgic, flanked by more than a dozen oil ministers, and a number of chief executive officers from the petroleum industry, Tillerson said: "I miss colleagues, I miss competitors, I miss the dialogues, I miss you all, and my 41 and half years in the business."
Tillerson largely stayed away from commenting on global politics, but did commend the "brave men and women who barely a year ago stood up against military coup plotters and defended their place in a prosperous Turkey" alluding to the July 2016 coup.
With Houston, Texas, USA – deemed the global capital of the oil industry - being the host of the next congress in 2020; Tillerson quipped: "I hope to be there.....in some capacity;" drawing laughter from the audience.
Tillerson is only the tenth recipient of the Dewhurst Award in the history of the WPC. It is named after Thomas Dewhurst, president of the Institute of Petroleum in the UK, who organised, in 1933, an event that was to eventually become the first WPC.
Held once every three years, it is described as the 'Olympics of the oil and gas business'. The 22nd WPC running from 9-13 July is likely to attract large attendances with over 6,000 delegates, 500 CEOs, 50 Ministers and around 25,000 visitors for the World Petroleum Exhibition, one of the largest strategic oil and gas expos in the world.
© Copyright IBTimes 2023. All rights reserved.