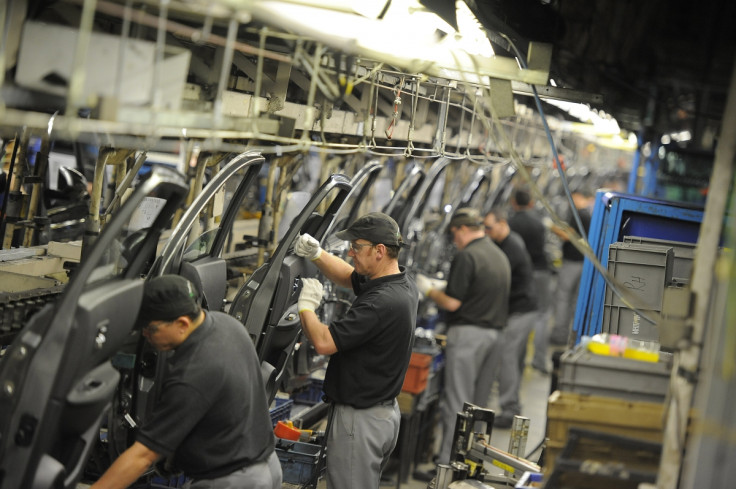 The pound slipped back against the dollar for the first time in three days, as a series of disappointing reports fueled speculations the UK economy could be slowing down.
Data released by the Office for National Statistics (ONS) on Friday (7 July), showed manufacturing production fell 0.2% from the month before in May, compared with the 0.2% increase recorded in April and expectations for a 0.4% increase.
Having recorded no growth in April, production rose 0.4% year-on-year in May but fell short of the 0.9% gain analysts expected.
Meanwhile, overall industrial production – a broader gauge of the industry – fell 0.2% year-on-year, rebounding from the previous month's 0.8% drop but remaining below the expected 0.2% increase.
The construction sector also experienced a slowdown, with output falling 1.2% month-on-month, compared to a 1.1% drop in the previous month and the 0.7% gain that was forecast.
"Based on today's data and the business survey results for June, we now think that industrial production is likely to have contracted by 0.5% in the second quarter, with construction output down 1.8%," said Howard Archer, chief economic adviser to the EY ITEM Club.
"And though an improved performance from the services sector will provide some support, GDP is likely to have grown by just 0.3% with the risks to that projection skewed to the downside."
The pound's reaction to the figures was predictably disappointing, with the currency falling 0.59% and 0.48% against the dollar and the euro and trading at $1.2893 and €1.1296.
FXTM research analyst Lukman Otunuga said: "With the string of economic data from the UK this week proving nothing to celebrate about, investors may be forced to re-evaluate the possibility of a UK rate hike this year.
"With uncertainty still the name of the game when dealing with sterling and Brexit woes weighing on sentiment, sterling may be in store for further punishment."
Meanwhile, Britain's deficit for goods and services increased by £1.0bn to £3.1bn, while the deficit in goods alone widened to £11.86bn from £10.6bn in April. Kay Daniel Neufeld, of the Centre for Economics and Business Research, said the figures highlighted the challenges facing the UK economy, as the pound's decline over the last 12 months has done little to reduce the trade deficit.
"We have repeatedly stressed that the UK's high-value added exports are less price sensitive and that any rebalancing in the make-up of exports will take time to manifest itself," she said.
"In the meantime the lack of clarity about future trading relationship with the EU – further exacerbated by the result of the general election – weighs on activity in the manufacturing sector. As a result, Cebr expects GDP growth of only 1.3% in 2017 and 1.2% in 2018."