The UK's factory sector recorded negative growth in July as manufacturers were hit hard by the uncertainty created by last month's vote to leave the European Union.
The flash purchasing managers' index (PMI) from Markit Economics and the Chartered Institute of Procurement & Supply (CIPS) fell to 49.1 from 52.1 in June, the lowest reading since February 2013. A score below 50 indicates contraction.
Manufacturing output and new orders both fell for the first time in more than three years in July.
The PMI score is a preliminary reading based on more than 70% of usual replies to the regular monthly surveys. The final results for July will be published in the first week of August.
The composite PMI, which combines the manufacturing and services sectors, slumped to 47.7 in July from 52.4 in June, the lowest reading since the financial crisis in 2009.
Chris Williamson, chief economist at Markit, said the "dramatic" drop in the index pointed towards a 0.4% contraction for the UK economy in the third quarter.
"The downturn, whether manifesting itself in order book cancellations, a lack of new orders or the postponement or halting of projects, was most commonly attributed in one way or another to Brexit," he said in a statement.
"The one ray of light was an improvement in manufacturing export growth to the best for two years as the weak pound helped drive overseas sales, though producers also suffered the flip-side of a weak currency as import prices spiked higher."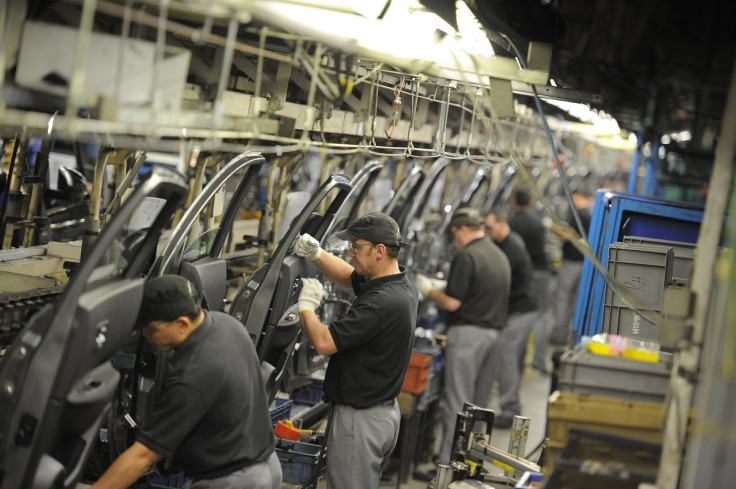 The disappointing figures raise the pressure on the Bank of England to cut interest rates at its next policy meeting in August.
The sterling fell 0.3% to $1.3188 against the US dollar following the PMI report.
David Noble, group chief executive of CIPS, said: "The UK economy has suffered sharp falls in output and new orders following the EU referendum as uncertainty has taken hold. The overall pace of decline was the strongest since early-2009.
"Weaker sterling has driven a steep rise in input prices for manufacturers but there is a glimmer of positivity with the new exchange rate encouraging a rise in export orders. However, with a subdued global economy, it is not yet clear whether these opportunities will materialise in the long term."