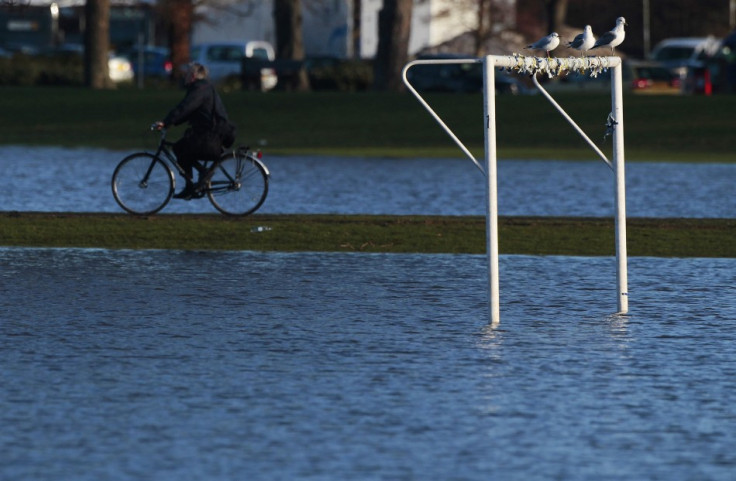 A mid-summer downpour caused flash flooding across southern England this afternoon as almost a fortnight's worth of rain fell in just 30 minutes, leaving cars stranded and shops and homes underwater.
Bournemouth in Dorset bore the brunt of the deluge, with roads in the popular seaside resort turned into rivers within minutes.
"There was flooding in parts of Dorset caused by torrential thundery rain, especially in the south where nearly 20mm of rain fell in just one hour between 10am and 11am on Thursday," Stephen Davenport, a senior meteorologist with MeteoGroup, told the Press Association.
"Over 50mm accumulated in places in six hours between 6am and midday," he added
The force of the downpour was so severe residents reported cracks opening in the road, drain-covers lifted clean off and parked cars floating away.
Kris Wingfield-Bennett, a 26-year-old technical consultant, told the Telegraph: "It was absolutely surreal.
"The shops were all flooding and owners were putting down their shutters in a bid to keep the water out.
"There were loads of people grabbing any sort of shelter they could find, some were paddling in the water streaming down the streets.
"There was a bit of Dunkirk spirit going on a some motorists stopped to pick up stranded people and take them to dry land.
"The central gardens were completely under water and huge cracks opened up in the main road in the town centre.
"I heard a loud crack but it was only when the water level started to drop I saw the crack was about 20ft long.
"It was chaos and like something out of a disaster movie."
Dr Richard Wild, from independent weather forecasters Weathernet told the Daily Mail the South had been hit by an unusually heavy downpour - but assured holidaymakers it will be sunny again by the weekend.
"We've had 30mm of rain this morning. The average rainfall for August in 56mm, so it is around half that in just one morning," he told the paper.
"Anything over 4mm of rain in an hour is considered 'heavy' so this was well beyond that level.
"The rain was forecast, caused by a warm front over the English Channel which is heading north-eastwards, but the amount was underestimated.
"The forecast for Friday and Saturday is sunny and dry but that might be of little consolation to people hit by flooding today."